I was born in Queenstown on the West Coast in Tasmania. At the time Mum and Dad were school teachers at Gormanston. We moved to Zeehan and then to Fingal in the Fingal Valley. I grew up in Fingal but went to High School in Launceston when I was old enough.
It was on the South Esk River at Fingal I started fishing, using worms for bait. In those days the season opened in September for all the months containing the letter R and we would hope for heavy rains to set the river in flood. That was when foraging trout would take worms, especially those trout in backwaters. We also used brass wire fixed to long poles to snare small trout in the local creek, Township Creek. We used to catch Redfin Perch and Tench but they were a nuisance because they would gently suck the worm off the hook. The trout would eat the whole bait and we were always pleased to catch one.
I have vivid memories of one day I was fishing using a live frog for bait. On the back cast a black snake fastened on to the frog and the two of them were launched into the water over my head.
While I was at High School, between the age of 12-17 I concentrated on my studies and didn't fish except in school holidays.
Then my father was transferred to Launceston and taught at the Prospect/Summerdale school for 12 years. It was about then I resumed my full interest in trout fishing. I fished the Northern Midlands rivers and streams, mainly The Macquarie and Lake Rivers.
I took up fishing with a fly rod in my early twenties and have grasshoppers to thank for this. I found grasshoppers hard to catch and the considerable time spent catching grasshoppers meant less time on the stream actually fishing. Grasshoppers were difficult to cast, even using light spinning tackle. On a bait keeper hook they would fall off when cast any distance despite using very light nylon line.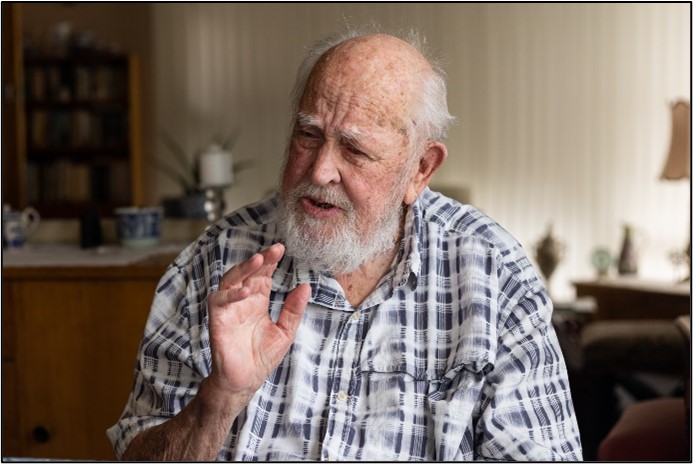 I obtained an old cane fly rod, a Bakelite reel and silk fly line. I found this set up much more efficient for casting live grasshoppers to trout. My first fish caught with this fly rod and live grasshopper was from the Lake River, now properly named the Macquarie River and I was delighted. I have great memories of that day,
Fishing with grasshoppers was very successful and I chose to turn to the artificial to improve my chances of success. It was about then I started tying my own 'counterfeit' bait and I continued to tie my own flies for many years. I would, of course, buy flies from Terry Charletons shop as needed.
One of my favourite grasshopper flies was the late Noel Jetson's "Noel's Nobby". I remember one day on the Macquarie River at Valleyfield I was fishing with "The Laird" Jim Ferrier. Jim's Nobby caught in a willow and in his efforts to free the snagged fly the tippet broke. The fly dropped onto the water and was promptly taken by a nice trout. The trout chewed on the fly and spat it out. The fly bobbed on down the pool in the current with Jim in pursuit. True to his Scottish descent Jim gratefully retrieved the fly at the bottom of the pool.
The late Ray Klimeck and Neil Buckby were great fishing companions over many enjoyable years. We would fish the Northern Rivers and streams together and frequently made trips to the Central Highlands. Frequently we would stay at either of the FFCT (Fly Fishing Club of Tasmania) club shacks at Little Pine or Penstock Lagoon.
My largest ever fish was on one of those trips with Ray, a thirteen-pound Rainbow from the now defunct Lagoon of Islands.
Neil Buckby and I had frequent trips to Flora and O'Dells and on to Lake Meston. This lake was named after Archie Meston but he had to die before the Nomenclature Board would name it after him – or anyone else still living. Archie's friends got round this while he was still alive by having the Board name Ah Chees Lake – after him, not some invented Oriental!
Many of the FFCT members were a big influence on me in those days. David Scholes (who I co-wrote 'A Flyfishing Pictorial with), Max Bertram, George Harding, Jim Ferrier and many others.
I also enjoyed Polaroiding in the clear waters of the Macquarie near Cressy and particularly Brumby's Creek on suitable days.
I served as FFCT President and newsletter editor at various times over the years, the club kept me busy.
During this time, I managed to write and have commercially published four books on trout fishing- Dry Fly Fishing for Trout, A Fly Fishing Pictorial, Finding Feeding Trout and Finding Trout, all quite successful. I enjoy encouraging and helping other fly fishers by sharing my knowledge with them.
I had the good fortune to travel overseas and fished Scotland, Ireland and also visited the Orkneys.
Another trip was to Canada around Banff, Calvary and Bow River. I recall, on one occasion access to the river was across a golf course adjacent to the Banff Springs hotel where my wife Barbara and I were staying.
The golf course was surrounded by a high security fence. Being keen to wet a line I ambled across the golf course, found a gap and wriggled through the fence. After I finished my fishing outing, I casually made it back to the hotel the same way I had come. The next day I found out the fence was for golf course and hotel patrons, to keep them safe from grizzly bears. It was at that moment I felt lucky.
I retired from active fly fishing when I turned eighty. I no longer have the energy and my eyesight is not what it used to be.
I am still keenly interested in the pastime and continue to this day to write my weekly column in the local newspaper The Examiner; published every Thursday under the pseudonym 'Brown Dun'.
My pseudonym originated from a fly I designed and began to tie back in the 1980's-The Brown Dun. I enjoyed considerable success with the Brown Dun, particularly on The Macquarie River because the thin wing would flutter slightly in the breeze which brought the fly to life. During a dun hatch I would fish it until the trout refused it and they selectively moved on to the spinners. My go-to fly at that stage would be the Macquarie Red which has proved its worth over many decades.
I began to tie my own version of the Macquarie Red on a slightly larger hook (size 13). I believe with red spinner flies the artificial needs to be slightly larger to discourage smaller trout. Top quality hackles need to be used to float the fly but tied sparsely enough to let the light and sparkle in.
I believe many fly fishers tie their hackles too heavily. Easy to see, but my experience was the trout would often drown them or refuse them.
The Brown Dun:
Hook: size 13 or 14
Tail: 6 brown cock fibres
Body: Mixed seals' fur; half grey, then equal parts of red, green and brown seal's fur.
Rib: fine gold wire
Hackle: black cock in front of brown cock
Wing: mottled light and dark brown from a swamp harrier (aka swamp hawk).
Notes: Use the primary or secondary wing feather. Cut a slip 4mm wide, fold it in half and tie it in as a single thin slanted wing.
If the theory that trout select one favoured colour in a fly and ignore others, the mixture in the Brown Dun gives them quite a range to choose from.
Tony's story as told to Jack Barker and Muriel Rollins.         Flies tied by Tony Ritchie
Photography: Jack Barker and Muriel Rollins                        Copyright 2022 All rights reserved.