6 Days in a leaky boat
Or is it more apt the name of trip from hell, I will let you decide
Sitting at home in Adelaide one Thursday night I received a phone call from my good mate Chris Bassanno down in Tassie. When can you get down here mate the sea trout are on in the Huon river. Dave was out last night and he had fish crashing white bait all around him. I said give us a minute and I will ring you back. Within 5 minutes I was back on the phone to him how does Sunday sound, great I will meet you at the airport.
My flight with Jet Star was due to leave at 18.30 for a 21.00 arrival in Hobart well I will tell you the flight left Adelaide at 22.30 because of a problem with a switch they had to fix in Melbourne . Now waiting 4 hours in Adelaide is bad enough but I would not wish 4 hours at the Adelaide airport on anyone.
After an uneventful flight we touched down in Hobart as I was retrieving my baggage I see no Chris so on came the mobile phone and beep beep beep there are 2 messages."Mate I can not pick you up can you catch a taxi to my mates place as we are staying there for an early start. So after another half hour wait for a cab I was on my way. Now $70.00 later I arrive at Daves place at about 2.30 am. Right here I must thank Dave and his wife for their gracious hospitality. After a coffee and some catch up chat it was off to sleep for a pre dawn start now 20 minutes sleep is not a lot to re-energize you for a full weeks fishing. So it was off the Huon River for a crack of dawn start.
We launched our tinnie at about 6am and headed up stream to look for the white bait schools that Dave had fished the Wednesday previous. We did come across some fish tight into the bank hitting schools of white bait but they where sporadic. So after a couple of hours and no results we headed back towards the ramp in the center of Huonville to have a look. Just as we went under the bridge heading down stream we saw a lot of commotion happening around the floating deli there must have been 10 or so Brown trout there so we cast to them for about half an hour with little luck as it was difficult to cast to them as they where under the mooring ropes of the deli.
We eventually gave up on these fish and slowly motored down stream with our first electric. About 30 meters downstream there was a fish crashing a small school of white bait. It was Chris's turn on the rod so he placed a cast on the fishes head and it walloped the fly without hesitation soon after we had our first Brown of the trip about 1 pound in weight but was it a sea run we believed it to be a bit dark in coloration to be a sea run so we marked it down as a residential. Now for my shot about another 10 meters on another fish was seen crashing near a small island clump I noticed the water behind this clump shimmering and I decided to cast to the center of the disturbance as soon as the fly hit the water it was snaffled and a smaller fish of about ¾ pound and was released still not believed to be a sea run.
We decided Chris would take the last cast for the morning prior to lunch. Just past the jet boat dock we saw another fish working; Chris laid out the perfect cast and was not immediately hit after about 10 foot of stripping he pulled up solid on a fish this time I was also on the video camera and the electric. Well this fish jumped and jumped and jumped it was out of the water more than in and after a spirited fight we landed an Atlantic salmon of about a kilo. This fish was released and while Chris was doing this I rewound the tape to see what we had it was more of a comedy than anything else not much of the fish in shot all we saw was bank water bank water in quick succession and a shot in the net.
Lunch time was an opportunity to talk some tactics and decide on a plan of action for the afternoon. Having had lunch and whilst deciding on a battle plan I had a few casts from the small wharf in the township next to the ramp. Chris was sitting on the dock back to me when he heard an almighty crack he looked around and saw me with a rod with a fairly clean break right in the middle. Well after about 4 minutes of hysterical laughter from Chris he composed him self enough to say he was not laughing at the rod breaking it was the expression on my face being one of oh well and I picked up another rod and continued as if nothing happened . A small foot note on this rod I had some samples made up to my specs and in shipping the first lot came in a cardboard box that was crushed a couple of the rods where broken and I believe the 5 wt had a fracture to snap while casting. So far none of the replacement rods have broken and I am giving them a hard time.
Re-launching our borrowed tinnie we decided to go upstream again and try the spot Dave fished there where few fish moving so we decided to leave them and go further down stream to explore. We felt that because of all the fresh coming down we needed to find back eddies of saltier water than the main stream current of freshwater we rounded a bend of app 90 degrees and saw 2 fish hitting white bait in exactly the water we where looking for . First cast at a hunting fish and I pulled tight on a fish of about ¾ kilo and lost it the size 12 hook pulled. Chris's turn and the same thing these little tackers where pulling that hard they where
springing the hooks we dropped 5 fish in quick succession along a stretch of about 150 meters. As it was nearing 5.30 pm and we where both fairly spent we decided to pull stumps and try early again Tuesday morning.
We returned to Chris's friends place and shouted them dinner as a thank you for their generosity in giving us shelter. After some great pizza and some soft drinks we crashed for the night as it was another sparrow fart start on Tuesday
We where at the ramp on daylight and launched and headed upstream again only to find no fish and indeed not many white bait so we only fished there for about half an hour before heading back downstream to fish what we believed was saltier water in our back eddy . As we rounded the bend again we saw 2 fish attacking white bait again I had first cast and dropped a fish of about a kilo I cast at the second fish and dropped that one also . After this I was banished to the electric for a while. Chris's next 3 opportunities all came unstuck fairly quickly and he also missed a fish in a way we could not believe. Chris cast at a fish and was retrieving there was a small stick in the water it was about 3 inches out of the water and it was bent towards us. We saw a fish charge out from the bank on the surface after his fly and as the fly came over the stick so did the fish it actually did not see the stick and slid up the stick and missed the fly. We did manage to land 2 fish for that morning and we doubted if they where sea runs.
It was nearing lunch again about 1.00 so we headed back to the ramp for sustenance and as we where to meet Dave on the water at his spot at about 3.30 we had some time to kill we took it easy for about 30 minutes and we looked at each other and we re-launched at about 1.30 . This time I was at the bow and Chris was at the motor now the tinnie we had was an old style job about 11 or so feet with 3 thwarts. Ok picture this I was on the bow thwart Chris on the rear and the video camera and tripod was straddled on the center thwart. The motor was primed and on the first pull Chris's elbow hit the tripod and the camera went flying the external mike ended up in my hands the batteries for it went in the drink and the camera ended upside down in the boat. We later found the LCD screen was broken and the zoom function not functioning.
We left the boat tied up and we carried out repairs and reorganizing so we could try again we motored upstream top the spot and fished there until Dave showed at about 4 we persisted here till about 6.30 with not much happening so we went back down stream and fished around the deli and ramp till dusk for 2 more fish about ½ kilo each. Now while Chris was looking for something in his pocket he took his mobile phone out and put it on his large water proof camera case. Yes he forgot he put it there could not find what he was looking for in his pockets and lifted his case. Next minute I heard f*7*9_ my phone hence the headline of this story his phone was in the bottom of the boat in about 3 inches of water. The phone was dried out and worked well kind of it would not have any ring tone when some one rang but it would light up also the text letters button JKL did not work. Now Chris is a text freak and even to today I get some strange messages.
As Chris needed to be in Launceston Wednesday we headed to his farm some 20 kilometers N/E of Launceston. Wednesday morning we did some odd jobs in Launceston and dropped into the Essential Flyfisher for a coffee and a chat. Of course being tackle rats we managed to find about $200.00 worth of materials we convinced each other we needed to tie some more flies for the rest of the week. So back at the farm we set about to tie some more white bait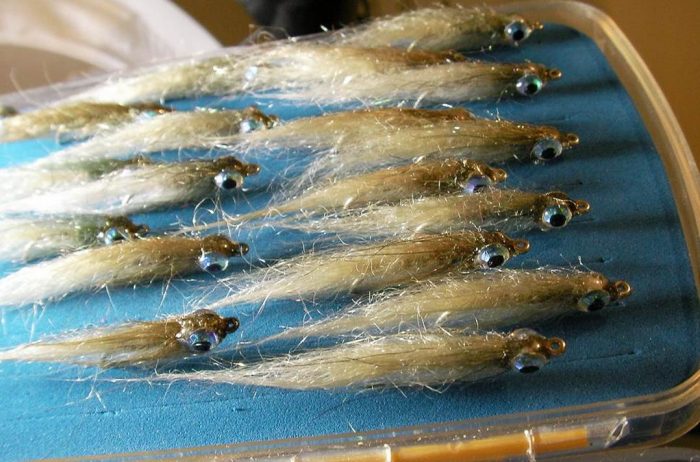 patterns. Now after missing so many fish we decided to up the hook size so we went from size 12 to using size 1 Owners. We tied about 50 flies that day in basically the same configuration only changing the colors. We tied olive backs on pearl bellies gray backs on white bellies and so on as these where the patterns and colors I tied in Adelaide and worked well for us.
Talking about the rest of the trip we decided to try a small river Chris knew of and only fished once before and he said there where plenty of fish there. So we made our way to this new river . After launching at the new spot we traveled upstream to a large area about the size of a football oval and cruised the edges casting to fish smashing white bait this was a lively spot and we landed 2 fish of about ¾ kilo each. Then we headed further upstream to where it narrowed to about 30 meters across we had fish crashing either side so for the rest of the day we caught and released another 3 fish. And one we believe was our first sea run Brown.
Next morning we where on the water early and we returned to the spot upstream and found that because of rain the previous night there was to much fresh coming down I mean it was like 2½ knots we persisted that morning for no luck so we returned back to the ramp. At about 30 meters before the ramp we saw a fish smashing white bait so Chris had a shot at him. Now this fish looked to be a smallish fish so Chris cast slightly upstream and 2 strips and he pulled tight on the fish a split second later this fish jumped clear of the water and the looks on our faces would have been priceless this fish would have gone 9lb + Chris battled this fish in about 2 knots of current for about 15-20 minutes and we had it beat at the boat twice but in trying to net the fish from behind with a small mesh net it was difficult to get the speed to come up behind the fish . After 2 shots with the net the fish was spent on the surface it drifted back behind the boat by about 10 feet and Chris tried to drag it back against the current and then it happened the hook sprang well talk about 2 deflated fisho's we pondered for a while then we retrieved and went back to the accommodation it was a fairly quiet drive back. The only good part of this was we managed to video the entire fight.
For the next day we decided to return to the Huon river one and a half hours south of that small river we found no fish or white bait schools upstream and few around the ramp as the rain had discolored the water so we went back to our favorite Eddie's and these where markedly clearer than the main stream. We tag teamed for 5 fish and none dropped must have been the size 1 hooks I recon. The last fish I caught was about ¾ kilo and it pulled like a train for the size after a spirited battle I landed my first sea trout it was a plump very silver fish looking more the shape of a Rainbow than a Brown.
We pulled the pin early that day and returned to our accommodation. We discussed the next days fishing and we decided to return to the little river to see if the water had slowed after no rain that previous day.
The flow had slowed a little so we decided to launch and fish there. We motored up stream and anchored on the inside of a right hand bend as the tide started to come in we found that the saltier water was pushing up on our side of the river and creating a large eddy as we waited we noticed fish working to our left. I said to Chris after seeing a fish working the same spot twice I will guide you on this so I positioned the boat for him to cast and picked the spot for him, the cast was on the money and as we where using sink tip lines at the moment he counted down to a desired level . Three strips and he came tight on a fish, it was giving him a fair bit of grief Immediately I called it as a 5 1/2 pound plus fish buy this time our new mate that was also fishing there motored over to see what was going on again I called the size and after much ribbing we saw color it rapidly went from ribbing to serious get the net said Chris I looked in Jims boat and saw he had a large mesh net and grabbed that after a couple of tense moments the fish was in the net a sea run Brown complete with lice that weighed in at 6 pound 1 ounce unfortunately the fish damaged its gills during the fight and was bleeding profusely so we 
decided to keep it as it would have not survived long if released.
Some of the credit must go to Jim as he fishes there almost daily and advised us to fish deeper with sink tip lines we had other hits and landed 2 other smaller fish doing this for the rest of the day. Local knowledge you can not beat it. At about 4 pm while we motored on the second electric we borrowed I was on the bow with my video camera shooting the scenery further up the river as we motored along we did not see a submerged tree and we hit it and yes you guessed it I took a swan dive off the front of the boat into the drink after a quick decision swim or camera I let go of the camera and held onto the side of the boat as we beached it so I could get back in believe me that water was cold. As we worked our way back to the main stream the electric stopped working and we could not get it going again luckily it was just a loose wire in the control we found out later. I was in rapid need of a change of clothes and decent fire so we retrieved and headed back to our accommodation for the night.
Sunday being our last day we decided to set aside the morning to talk about our new business venture as this needed about 4 hours and my flight was at about 2pm we left the accommodation at about 11 am. Whilst driving back through Dover we saw a police car at an intersection as we passed he turned in behind us so Chris did a right turn and he followed we pulled into a servo and he pulled in behind us. Hi fellas can you pull over on the other side of the road when your finished. Long Story short Chris received a warning for no trailer lights I believe this is good for 2 years so it is basically probation for that period.
The rest of the trip to the airport went without any hassle and the flight home was actually on time
The damage 2 broken rods 2 damaged video cameras 1 smashed 1 drowned and lost forever 1 drowned mobile phone 2 tickets from the constabulary 2 fried electric motors .

Flies are available by order from Brian Mattschoss I will be doing a video of these flies soon.