From booting the Sherrin to catching footballs with heads and tails.
I was born in Holland in Almelo in 1939 during World War Two. You could say I came into the world with a bang (laughing). Holland was occupied by the Germans and we were kept under curfew. We couldn't go out because of the bombing; it was pretty scary.
I am lucky to be here because a bomb dropped right by the front door of our house, but it didn't go off. We stayed in the loft of a farmer's barn until they could deal with the unexploded bomb.
Every time the air raid siren went Mum would lay on top of my sister and Dad would lay on top of me to protect us. Up to the age of about six I didn't know anything else. I didn't start going to school until I was seven years old.
The only fishing I did in Holland was with the kid next door. We used a stick with a length of string attached to a float with a hook under the float. We used to catch small Snook in the canal, it was just a bit of fun.
In 1949 Mum and Dad decided to migrate to Australia. We arrived in Bathurst, NSW in January 1950. We couldn't speak English so they got Dad a job in Bordertown, SA, on the railways. Coming from a cool climate to the South Australian heat got to Mum. She didn't like it and suffered as a result.
After four years in Bordertown, we moved to Launceston and Tasmania's cooler climate.
At Bordertown High School I learnt to play Aussie Rules football. In Launceston I went to St Pats College, (about 1955) and played football for the senior team. Then I took up rowing for the North Esk Rowing Club and we won a lot of races.
Then, I went back to football. I played for Churinga in the amateurs first, then Newstead, and from there to East Launceston. I am a Life Member at East Launceston and played in their premiership team in 1967. Then I went to Scottsdale, played in the 1968 Grand Final and we won the 1970 Grand Final. I have won about eight Best and Fairest during my time at East Launceston and Scottsdale. I coached Evandale to a Premiership in 1974.
When my in-laws built a shack at Kelso, I started saltwater fishing. I was about eighteen at the time. I used a Matuka to catch cocky salmon and black back salmon.
My first flyrod was a fibreglass rod which I bought from Terry Charletons on the corner of Kingsway and York St, Launceston. The next rod I got was a cane flyrod built by Bill Southam who was also an Australian Fly-casting champion. I got that off Don Gilmore from his shop in York Street.
There were four places you could buy fly rods and stuff then; Terry Charlton's, Don Gilmore, Harrold Mathews and Sculthorpe's.
I met up with Barry Lodge in Charlton's and we became friends. In those days good fly-tying gear was hard to find, and Barry would ring me up when some good hackles came in. Barry nominated me for membership of The Fly Fishers Club of Tasmania, about forty years ago.
I became really interested in fly fishing when I was at Lake Leake one day. There was an old bloke by the water's edge with a cane rod, smoking a pipe. His mate further up the bank called there was a fish coming towards him, so the old bloke stood up, cast gently in the direction of the fish and caught it.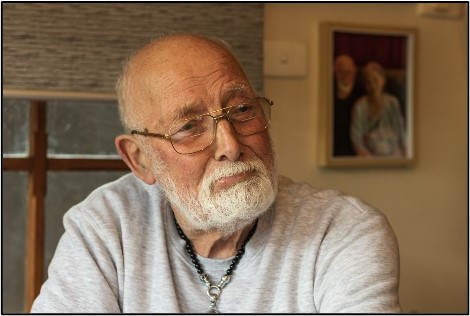 I said to myself 'Oh man, I have got to learn this'. I went up to the old bloke and told him I wanted to learn. He looked at my spinning rod and said, 'well if you do leave that at home'.
I had no idea what to do or how to go about it. The old bloke said when you catch your first fish stop and think, ask yourself, 'what did you actually do to catch it'?
It took me eighteen months to catch my first fish, it was on a Zulu. Then in the next fortnight I caught another one. One person who really helped me in the early years was Dick Williams. I used to run in to him in supermarkets quite a lot. I was working for Dornaufs and Dick worked for Nestle.
Dick taught me how to tie nymphs, I couldn't believe something so small could catch those big fish Dick had at home in his fridge. He would take me up to his shack at the Great Lake. We would go early morning to Penstock, back to the shack for a big breakfast then on to Little Pine at ten o'clock.
In those days (early seventies) you could just about set your clock by the ten o'clock dun hatches at Little Pine. We only fished off the shore in those days.
Dick also introduced me to Brumby's Creek. That was some of the best fishing I have ever had in my life. In those days Brumby's had everything; Dun hatches, Caenids, Spinners, Cockchafer beetles, Corby Moths in the evening, Mudeyes, you name it. It was some of the best fishing until they ruined it – aerial spraying, for example. You would be fishing, and a crop duster would fly over, and you were getting it all over you. I don't know how the hell they got away with it, but they did. Killed off the insect life they did.
When I lived at Scottsdale, I used to fish the Little Brid River, that was good. The trout would take any little dry fly or grasshopper. They weren't big fish but good fishing anyway. The Forrester, Little and Big Waterhouse, Blackmans Lagoon too. At Blackmans there were really good fish, they used to really hammer Mudeyes.
I have been tying flies since the early seventies and I sort of became an entomologist then. I met Tony Ritchie; I am even on the front cover of one of his books.
I remember one day Tony invited me to join him and the local headmaster fishing the Break O'Day. It was the headmaster's first time. We got there and there was a Red Spinner hatch on. We all did well, the headmaster got five. I had eleven and had lost six in the weed. On the way back to the car we were hurrying as I had to go to a dinner that night. I saw a fish move and with eleven I wanted to get my bag of twelve. I cast to the fish and caught it. Unhappily, it was a Redfin Perch. That Perch has always stuck in the back of my mind.
The Break O'Day isn't much chop at all now. Used to catch one and a half to three-pound fish in there.
Just a few I fished with were Ross Frankcombe, Ray Klimeck, Dan Dempsey and enjoyed my time with all of them.
Dan was one of the best fly tiers and fly innovators I have ever met. I call him 'The Master'. Dan even modified my fly-tying vice to make tying flies with my old arthritic fingers easier. He has certainly taught me a lot of things, always generous and willing to share his knowledge.
Dan even tied a green dun once to show the colour doesn't matter, it is the silhouette that is most important.
Over the last four years I haven't fished so much. Helen my wife became unwell. We regularly camped together up the lakes for years, she loved it. Her nickname was 'The Lady of the Lake' at Penstock. This year I intend to do more fishing.
I have lots of good memories of my fishing and often think of the hatches we used to get. I remember one day at Bronte Lagoon with Ray Costello and Bob Reeves. It was pouring with rain, and we were sheltering in a tent listening to the cricket because David Boon was batting. A father and son who fished in the rain came back with all these fish and we thought here we are in a tent listening to the cricket when we should be fishing. The next day we headed for the Longshore. Thousands of army caterpillars were crawling out of the tussocks, falling in to the water and the fish were going mad on them. We all bagged out and lost a few too. I remember losing the first nine fish I caught that day. And when the grubs did stop, we would hit the tussocks a few more times to get them moving again.
I have a couple of flies that I have refined and adapted over the years; my version of a Zulu and what I call a Hatching Dun. I couldn't count how many fish I have caught on these two flies.
The Zulu
This is pretty straight forward. It's a red tag body but with a black clipped cock hackle wound through the body with no silver rib wound through the body like the original Zulu pattern. That's it. In a way it's inspired by Barry Gough's Goughie's Fly, it floats very well. I like something black that I can see. It works very well in shallow lakes like Lake Ada. I tie two of them on and just drift them. It's surprising how fish just come along and take it.
Hatching Dun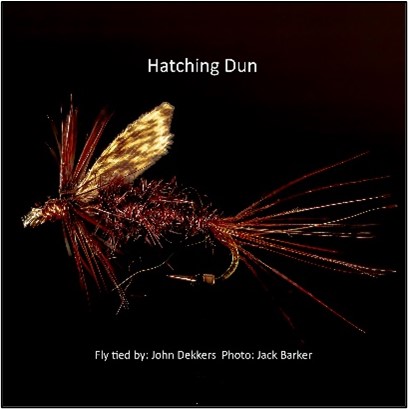 Hook: Daiichi 1730, Size 12 (has a bent shank)
Thread: Brown
Wing: Turkey
Seals fur: Chocolate Brown
Tail: Brown Hen
At the hook bend tie in about half a dozen fibers for the tail. Tie in a bit of copper ribbing before the hook bend, this adds a little bit of weight and gives the body a bit of shine. Then tie in a bit of seals fur for the body, bring the rib through and tie off. Then tie in more seals fur for the thorax, but not too much. Next, tie in between the shank bend and hook eye the turkey feather, leaving room for the hackle. Fasten a 'dun wing', tie in a brown cock hackle behind the eye of the hook and that's it.
John's story as told to Jack Barker and Muriel Rollins. Flies tied by John Dekkers Photography: Jack Barker and Muriel Rollins Copyright 2021 All rights reserved.