Written by: Charles Peck.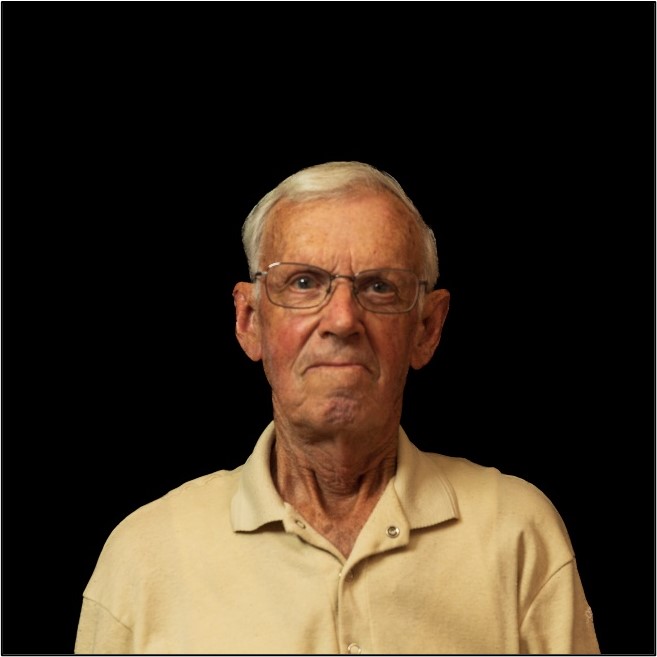 I am the eldest of three sons. My father, having grown up on a farm, came to town post-depression. He established a market garden and acquired a milk round in West Launceston. My mother, eldest of four, was a qualified dressmaker. She also taught at Tech. College night school.
Early education was at West Launceston Primary School. We explored the South Esk and Cataract Gorge from the Trevallyn Bridge to above the Third Basin. Holidays were often with grandparents either at the Peck farm at Karoola or the Batten home at Beauty Point. Early fishing opportunities were trout in the nearby South Esk or Karoola in the farm creek and nearby Piper River. In the salt water at Beauty Point it was for cod, flathead, cocky salmon, trevally and couta.
My first trout was taken on a worm in the farm creek when I was about 10; later dozens from the nearby Piper River. I had a short rod with a spring steel tip section. My first fish on a fly came from the South Esk at the foot of the rapids, a short distance above the Trevallyn bridge.
School kids from West Launceston and Trevallyn learnt to fish in the Gorge. Firstly, with worms for trout stranded in the concrete swimming pool when the floods receded in spring, or in the main river pools.
When the whitebait runs started from September, the silver sea-run browns followed them, culminating with arrival of "cocky" salmon about November. Kids usually stayed on their own side, Trevallyn boys on the Gorge side – west below the Basin.
Cocky salmon were great sport at the bottom of the rapids. At first being caught with a whitebait on a hook drifted down in the current. The major problem was to catch the whitebait with a hand net leaning from a wet slippery rock over the boiling rapids. I fell in one day before I could swim. Soon learnt to swim!
Two old chaps were the experts on "cockies". Using flies tied from white chook feathers with silver paper body. The older one, George, was a WW1 invalid who had been gassed. He used a heavy greenheart fly rod which was tied to the bar of his push bike when he pedalled to his various spots, at the foot of rapids, or near Ritchie's flour mill; the North Esk above the Tamar St. bridge, or late summer in the rapids below the First Basin. He probably lived on fish. There was usually competition for the rock outcrop on the West side just at dawn. It was then a special place. The water would boil with fish. Nevertheless, provided we did not get in his way we were tolerated and were probably company of sorts.
Their catches with flies far exceeded ours with bait.
I watched George cast his fly across the river and work it to tease the fish. He was very skilful despite his obvious ill health and age. I decided to try fly fishing.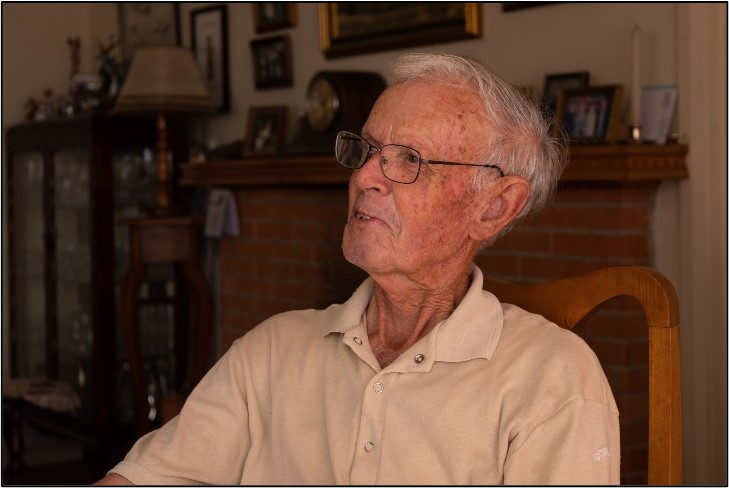 A fly line was made from about fifteen yards of cotton cod-line thickly rubbed with beeswax to stiffen it. A short length of catgut and a green Matuka from Coles, (my favourite tackle shop), made up the gear. I practised casting in the back yard until I could cast all the fly line with that short steel spring tip rod. My first attempt with a fly yielded twelve cocky salmon and one small sea-run trout. I was then about 11 years old and decided to learn more about fly fishing.
That rod died a year later. It was broken in the front wheel of my bike going flat out down the gravel Basin Road hill. The bike needed many new spokes, frame straightened and I lost a fair bit of skin. My next fly rod was made from two top joints of an old split cane rod, (no butt), given to me by Grandfather Batten. By filing down the bottom brass male ferrule of the lower joint, it was fitted into the female ferrule of another steel rod I had bought. I then had a six-foot cane fly rod of sorts. I also found a short section of an old tapered silk line.
My first fish on a dry fly came with that rod, dabbling a beetle pattern in Station Creek near Lemana Junction. By then I was thirteen.
The best of the lower South Esk river fishing ceased with the construction of the Trevallyn Dam.
Millions of elvers, whitebait and sea-run trout which came up the river in spring were all stopped by the dam. Now a fish ladder allows some elvers to reach freshwater feeding grounds and adulthood. Once adults are ready for spawning, they then have to either pass through the dam outlet or enter the Riverside power station to be minced up in the turbines. Survivors travel to the tropics or where ever they spawn.
In the past sixty odd years I have rarely fished this once great trout water. Pink fleshed trout and prolific weed growth supporting prolific caddis, Galaxia and snail population are now rare downstream of the dam where the outflow from Blackstone sewerage discharges.
Post WW2, my parents were allowed in 1947 to build a new house in Granville Street with a modern cool-room and dairy. The milk business had to be sold when my father developed heart problems a couple of years later.
He was offered a position with Hollis Motors as a car salesman. It was fortunate for me, as by then I had a decent fly rod and had met Mr. Hollis who was a skilled fly fisher. I received a split cane three-piece Turville "Mitta" rod for my fifteenth birthday. I purchased a J.W. Young Pridex fly reel and Dodge No.3 silk fly line from proceeds of rabbit skins and pocket money. All from Wigram and Ross.
I used to haunt their shop to learn more about gear and fly fishing and became acquainted with both partners. At age 13 I had been invited by Mr. Richard (Dick) Wigram to his first fly-tying class along with Rodney Ross (son of his partner Ken Ross) and Jason Garrett with whom I sometimes fished. They each had parents who fly fished, whereas I did not. We were all pupils at Grammar School. Jason later established "London Lakes" and was renowned in the sport.
Dick could not meet the demand for his flies from anglers visiting the state in summer to fish the Shannon Rise at Miena and needed more tyers. Adults at the class were all experienced fly fishers, some of whom were involved in the Northern Tasmanian Fisheries Association Central Branch and later foundation members of the Fly Fishers Club. Involvement in that class introduced me to many skilled fly fishers.
Names I recall were Max Christensen, Geoff Hall, Fred Granger, Rod House, Geoff Wing, Ken Littlejohn, Stuart Napier, Mr. and Mrs. Ranicar from Deloraine. Terry Charlton was at a later class.
About the same time a branch of the Australian Casting Association was formed in Tasmania, an off shoot of branches in Victoria and NSW. Many of its members came to fish the Shannon Rise, staying for extended periods in summer, and were keen competition casters on the mainland.
The Corra Linn Casting Pool was constructed by SFFC, now Inland Fisheries and NTFA, as a joint use pool for fish raising and competition casting. With better gear, my casting skills (learnt on rough gear), had immediately improved.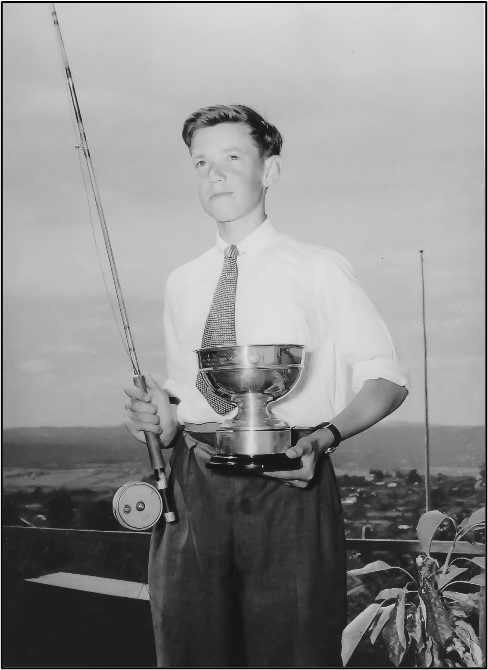 Dick Wigram suggested I go along and have a try in the Novice event in 1951 when it was officially opened.  I had a good score in that event and was told I had qualified for entry in The Australian Championships to be held in February 1952 at Corra Linn, along with a few local adults. Many mainlanders were over to fish the Shannon Rise. I was entered in the 1952 Championships and won the Dry Fly Accuracy event with a score that equalled the then record. We used conventional fly rods and lines for accuracy casting. I was then 17 so it was a real surprise.
Ken Littlejohn and Terry Charlton were prominent in all casting events, both becoming Australian Champions in later years. Terry set a record for open heavy line of 186 feet which stood for many years. My best was 143 feet with a borrowed rod. The rods were short, very stiff and the heavy lines 50 feet long – fast taper with monofilament shooting line.
 Terry and I were near neighbours and practised our casting in a paddock across the road.
Soon after that initial qualifying in 1951, my father's boss, Mr. Doug Hollis, the original owner of "Koongara" at Penstock invited me to accompany him and friends to fish Penstock on Boxing Day 1951, for four days. He was a very skilful fly fisher. I was used to handling a dinghy, so after a briefing on the lake, how to spot fish, where to fish etc., he allowed me a free hand to go where I pleased in their smaller boat. The adults fished from a much larger craft.
There were very few mayflies there at Penstock then but plenty of midge. It was a great experience, being my first visit to the lake country. I caught fish on both wet and dry flies.
Other early adventures to the highlands included Lake Fergus in March 1953 with John Wheeldon, a skilled lure fisher and my two brothers – (good catches, many snakes), Little Pine River in 1954, (pre-dam, river low, dry marshes, no fish); Lake Kay area in company of Athol Littlejohn and Geoff Savage – later FFCT members and pioneers of 4WD access to Western Lakes.
A few day trips to Gunns Lake/Little Lake via the old track from "Caseyville" with John Wheeldon and others. That was a three hour walk over seven miles up the mountain in the dark to arrive at dawn, fish all day, boil the billy then walk back down again to the car by dark with heavy packs of fish. We were very fit and needed to be!
I had started accounting work in 1951 and in 1953 bought my first Hardy split cane rod ("JLH Triumph") which I still use occasionally.
 In January 1954 I decided to have a week at the famous Shannon Rise which I had never fished. I booked in at the Miena Chalet. Other guests were known to me from casting competitions, Dick Wigram, rod makers, Malcolm Gillies (Victoria) and Bill Southam (NSW) their wives, some of whom fished and other notables from Hobart and the mainland.
Although much younger I was accepted and seated at a table with an SFFC commissioner (Mr. Warner) from Hobart who was also alone.
The Shannon Rise occurred annually in early December until February and attracted many fly fishers from the mainland and overseas. Billions of "Snowflake Caddis" hatched in the half mile stretch of river between the old arch dam and Shannon Lagoon. Droves of trout moved up from the lagoon attracted by the myriads of caddis flies hatching from the coarse glacial river gravel.
At dawn, both river edges would have a solid mass of dead moths about a foot wide. Anglers would kick masses of the dead fly to float down and excite educated fish. By the end of week, I had not landed a single takeable fish (then fourteen inches) from the river although quite a few from the Shannon Lagoon and Penstock where I went with Mr. Warner for a day.
In the river I was broken off repeatedly, my 3X gut casts repeatedly snapped when the fat and strong river fish bolted downstream in the fast water – no nylon tippets – just new on the market.
However, I succeeded in both the Shannon and Penstock lagoons, where the fish could run and be tired out. I fished dawn and evenings in the Shannon Lagoon where a size 16 Shannon Moth tie was deadly on "tailers". I still had breakages but not as many and a notable catch in the big hotel safe by weekend.
The Snowflake Caddis is common during summer in the upper James, Ouse, Fisher rivers and probably many others in highlands. Coloured mottled grey and white, it is different to the common white caddis, which forms clouds along the lowland streams and rivers.
Compulsory National Service intervened in late 1954, plus accounting studies resumed when the subsequent military service period finished, limiting my fishing for a few years.
The HEC was then building the new Great Lake dam, had turned off the river and ended the famous Shannon Rise.
Once a car replaced pushbike and family transport, new waters around Bronte and King William were targeted, offered great fishing.
Early contacts in fly fishing led to long involvement in Fisheries matters. I was Acting Secretary of NTFA Central Branch for a year or so when Don Gilmour took leave. This also exposed me to the leading fly fishers of the day, some of whom formed the Fly Fishers Club of Tasmania (FFCT).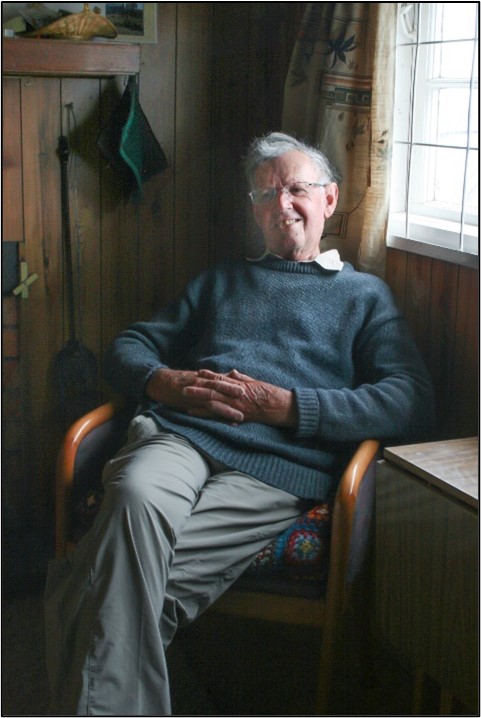 David Scholes invited me to be a Founding Member. I attended a few meetings as a guest, usually with Rod House. I am certain I was a Junior Member (under 21), for at least a year but seemingly did not finally join until 1963, due to National Service, accounting studies and work commitments.
I also joined the Launceston Walking Club in 1959 where I met my wife, Marcia. We married in 1961. My interest in fishing remote areas had led to many places favoured by walkers. I became a committee person in the LWC. When on club or family walks, I usually had a rod, finding interesting rarely fished waters in National Parks, particularly Cradle Mt./Lake St. Clair and Walls of Jerusalem.
Our four children all developed interests in outdoor pursuits.
Many a trip was shared with Philip Fisher who I first met on the North Esk river near Punch Bowl creek. I was 16 and he 17. We were both fly fishing for sea runners chasing "white bait" and became close and lifetime friends.
He introduced me to his favourite places, Great Lake; Lakes Sorell; Crescent; Woods; Dulverton; and Arthurs. I took him to the Western Lakes, Chudleigh Lakes, Lake Leake and some of the rivers. We shared a common passion for fly fishing and were generally successful together. Phil was a very skilled wet fly fisher and fly tyer. He was also a member of FFCT and The Hobart Fly Tyers Club. He was very knowledgeable and a great friend.
I remember when the FFCT moved the first shack from Swan Bay to Little Pine Lagoon in June 1970. Barry Gough, Geoff Wing, me, Len Smith, Athol Littlejohn with a low loader, Max Bertram, Jack McKercher, George Harding and "Snow" (Wilfred) Widdowson all helped. It was jacked up, skidded onto the log trailer at Swan Bay, arriving at Little Pine before noon. It started to snow heavily. Athol told us we had to be quick. He didn't want to be snowed in with logs to cart next day. Again, jacked up, Athol and the truck took off, leaving the shack standing on posts four foot high. The problem was how to get it down. Len Smith, a builder, took over. He cut partially through two of the posts with his chainsaw. When one of them started to bend he just whacked it with an axe. The shack collapsed onto the ground with a crash in a great cloud of dust and flying glass. All the windows broke. We then all did a runner. Geoff Wing skidded in deep snow on the way home and rolled his Land Rover near the Poatina intake road, slightly injured.
It was next summer before the shack was made habitable and stayed there, later extended, finally demolished and the present "Noonamena" built. I acquired my shack next to the FFCT shack from Ross Scrim in 1979. One of the oldest there but improved and extended over the years with help from my sons Philip and Richard and friends.
I have fished Little Pine since it was first flooded in 1956. The largest fish I ever caught there was six pounds. Phil Fisher caught one weighing nine pounds (on scales) near the Island and Joe Martak had one reputed to have been eleven pounds. We had seen the monster a few times, a fish gut feeder, each evening after we cleaned our catch.
I started work in professional accounting in 1951, left it in 1955 for industry (Cornwall Coal Company), returned in 1962 with the international collapse of coal mining (cut in oil prices). Returned to Cornwall in 1963 as Company Secretary and defacto Business Manager expecting to be the liquidator. We survived and gradually increased output. After a major recovery of coal mining in 1972 (doubling of oil prices) the company had to treble output in a couple of years. I survived a takeover by Goliath Cement in 1980 and was appointed Commercial Manager. I retired in 1993 after another market downturn involving several major Tasmanian industry closures. My work took me all over the state and underground on many occasions. Dealing with major industries – company directors, managers, engineers, miners, unions and technical staff. Many of them fished. Some with a fly and a couple renowned as local poachers.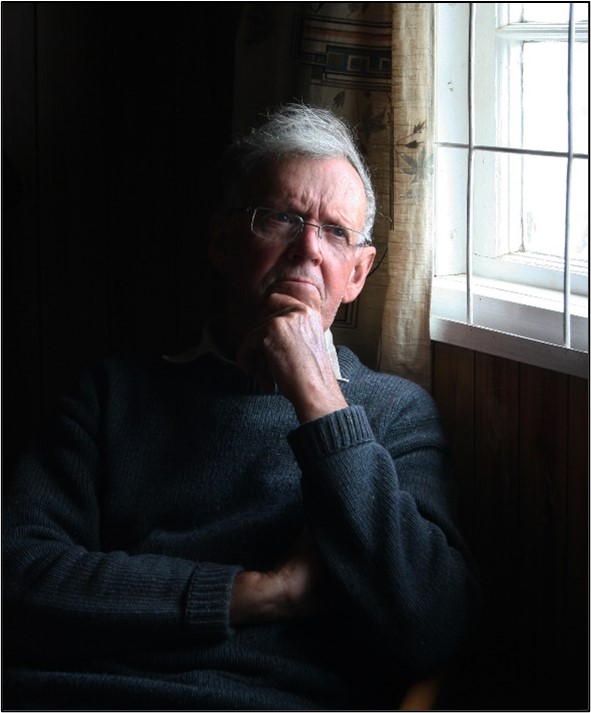 I made many friends through my work and fly fishing, sharing many valued experiences with them. Some close have passed on. Philip Fisher last year, Geoff Clark, a former FFCT Secretary who did many trips with me and Barry Lodge a great fly tier – many years ago. Others I have mentioned above.
Jim Ferrier, Dan Dempsey, Ross Scrim shared many a trip with me into very remote areas. Some were epic adventures with appalling weather encounters, blizzards, storms, floods, big or no catches. We still remain in contact with regular updates on fishing news, flies and some of the near crazy things we did in the past.
Special memories of each are:
Philip Fisher – Numerous great catches on Tods Corner, Arthurs Lake – (boated 34 between us by 3pm then retired to Tods when rain threatened); Little Pine Lagoon; Dulverton – my three weighed 17lbs; Blackmans, my 2 browns topped 20lbs. Phil always had the best and most rainbows on his tiny wets; Tooms Lake with Phil and Dan – big browns and many rainbows; the list is endless.
Geoff Clark– Numerous trips to Bar and Chudleigh lakes, the anxious time when I thought I had bitten by a snake in long grass about a day walk from the car, later proved to be a weird insect with no lasting effects.  The time we arrived at Explorer at 9am and Geoff realised he had left his rod in Hobart. Not to be beaten, he dropped his pack, walked back to the car, off to Hobart, collected his rod(s) and back for tea with me and Richard at 5pm. A great Club Secretary for years.
 Jim Ferrier– One of the stalwarts in Inland Fisheries who toiled for years to establish Four Springs and represent northern anglers. We fished many rivers and lakes- Penstock a lot, Explorer, Nameless. The time we were caught in there and had to jump across the top of a waterfall on flooded Explorer Creek, Jim's rod was broken when he landed. Just a few of many memories.
Dan Dempsey– We each have Purdon dinghies, part of the fleet that fished Toom's a lot when it was very good. Dan was usually part of the base FFCT crew when the early January trip was organised to fish the Western Lakes for four days along with me and Geoff Clark. Typically, a catch of 39 fish over three fishable days, the three of us had 12 each, the other three had one each.
Ross Scrim, we met in 1962 through a mutual friend and fished a lot thereafter until he moved away for work and is now back here in Tasmania. The October day trip to First Bar Lake when a Victorian asked to join us and was allowed to, provided, he had warm gear. Beautiful weather until noon then sub-zero fog and visibility of two metres. Ross had an eleven pounder and we were about three miles direct from the only way down. I insisted we follow the Ouse River snakelike route to its start, then a compass bearing about a mile to the cleft in the cliffs.
The visitor developed advanced hypothermia, clothes inadequate, quite delirious and wanted to go another direction. We had to restrain him until we were down to a stashed thermos of hot coffee and rum. Not an experience easily forgotten.
Another great trip in 1962- a week based at Steve Kerrison's hut near Pillans with Steve and other friends.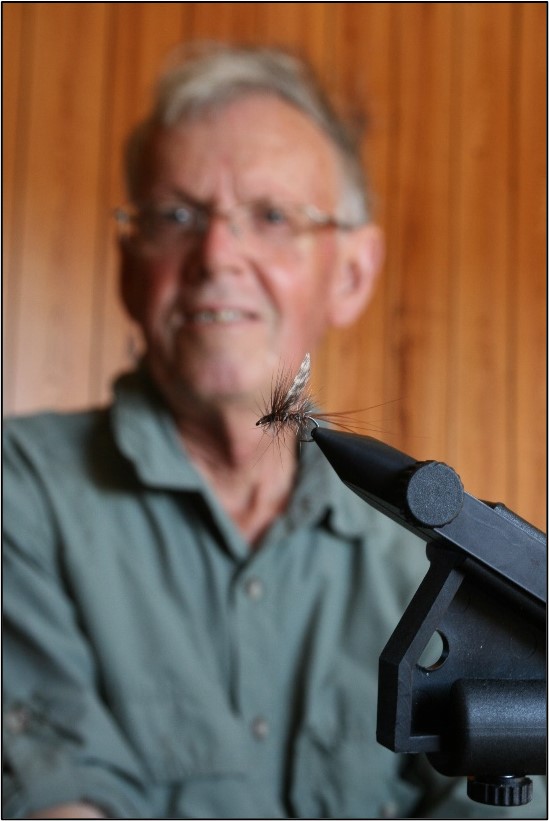 Barry Gough Loved fishing Arthurs Lake in its heyday – unforgettable rises to midge, duns and spinner. He also came to the Chudleigh Lakes with me. Two occasions stand out. We knew that some tremendous caddis and mayfly hatches occur in early December in the highlands and decided to watch the weather closely in the hope of success. A big southerly blow came through in the first week with a predicted large high-pressure cell to follow. Sure enough it snowed for couple of days and the next day's forecast looked good. We set off before dawn, drove to McKenzie and were walking down the gentle slope to Explorer about 7am with light snow on the ground. Flat calm, blue sky and we could see splashes in the lake from some distance back. Clouds of caddis around the lake shore and fish jumping at them.
We did not have a fish at 10 am. despite covering many, then a few duns appeared. A different story!
We knocked off for breakfast about 2pm with our bags, or so we thought. Many lost or broken off. The score was 23 when we cleaned them much later. Average size about 3lbs, champagne dry fly fishing. Surface was covered with fly and the fish were travelling in groups feeding up into the northerly sea breeze, then disappear for a few minutes, then reappear 50 metres away and feed up again. We did not fish the next day; a leisurely wander out with heavy packs.
The other occasion Barry, Jim Ferrier and I were caught in there when a blizzard developed; not unusual. A howling gale, driving snow or sleet and trying to figure out how to cook tea and enjoy the bottle of red wine we carried in.
I knew of a hole about 10 yards long under the rock scree near our camp so we huddled in there around a smoky fire (before fuel stoves only). The wind still whistled through the scree. The meal was duly cooked and then we realised, no cork screw! In desperation the cork was removed in bits with a thin bladed knife, the wine was great apart from the small bits of cork and the smoke kept our eyes red. Then off to a warm sleeping bag in the nearby tent.
This collection of memories has stirred many others, too numerous to record. These memories have also left a feeling of great sadness that the opportunities our generation had for exploration of places, streams, rivers and lakes are greatly reduced or even gone for our grandchildren. Our own children had the benefit of exposure to some of our experiences but for their children so little remains.
Grandfather Peck's farm creek watercourse where I caught my first trout is now a flat cultivated paddock, the main road bridge just a large concrete culvert over a bone-dry gap. The Piper River which it once joined, reduced to being a polluted stream. The Macquarie, Isis and other small tributaries hardly flow. The North & South Esk systems are similar. All our major river systems are starved of water diverted into farm dams for irrigation. The remainder polluted by poor or no sewage treatment and their mayfly hatches almost extinct. The highland lakes are left but many are stressed by fluctuating hydro demands which destroy the shorelines.
Compared to some of the places I have fished overseas when visiting family, in Sweden, UK & Ireland, we Tasmanians are still fortunate. I still catch a fair share when able to fish from my boat but wading is risky with only one stable leg and arm. Marcia and I each have health issues, but have outlived many friends and relatives, thanks to our caring children.
Written by Charles Peck, April 2022 Photography by Jack Barker, Muriel Rollins, David Cook Copyright Charles Peck, 2022 all rights reserved