My first fishing experience was fishing with my dad. He was a keen trout fisherman often travelling to Tooms Lake with a group of friends. My elder brothers had this experience, but my introduction was centred around the local waters of Winnaleah in NE Tasmania. We fished the Frome Dam, Cascade Dam, Paris Dam, Blackmans Lagoon and the Forester River near Bridport. Fishing was done at night using live frogs. My dad taught me to lay a hessian bag at my feet then casting out a frog and slowly pull it in by hand. When the lines started to run back out you would wait until the line stopped then striking. The only downside of this technique was when the frog swam to a tree and climbed up and you were unaware it was out of the water. I guess he also taught me patience and it has been a trademark of mine as I always spend hours fishing and I never get tired of it.
As a young boy it was always scary walking through the bush to the car often after midnight. The scariest was walking back under the Paris dam, situated above the Cascade Dam and Derby. Water would be hissing and running down the concrete wall.
Luckily around Winnaleah there were lots of rivers and creeks all holding fish. In my late primary years my mates and I would ride our bikes many kilometres to the Ringarooma River, Boobyalla River and the small connecting creeks. We would target blackfish, trout and freshwater lobsters. Often on the way home some local in a ute would stop and we would pile our bikes and ourselves in the back. Those days of childhood freedom and risk taking are gone. I was blessed to being raised at that time.
Alas, like many of our rivers and small stream these waters would not now hold the head of fish they once had due to changes in farming practices.
In the mid-60s I headed to Launceston to boarding school. I went home most weekends and would go fishing with my dad, or kangaroo shooting with my older brothers. I had four brothers, Neal, Martin, Gary and Shane. The fishing was good and the fish size in the dams were always in the 2-to-3-pound mark. The creeks produce smaller trout.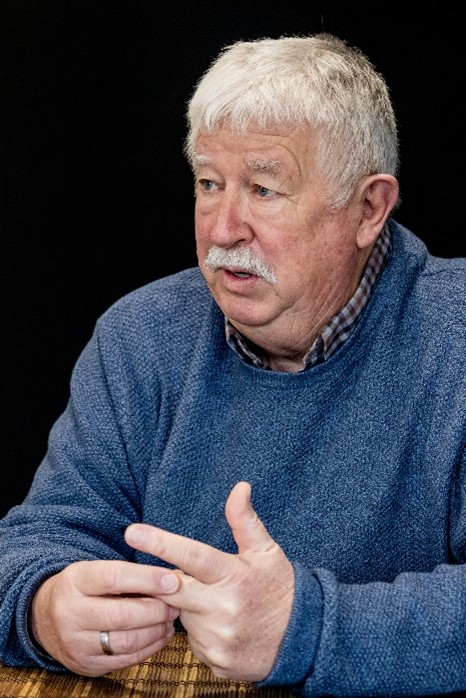 In the '70s I headed to Hobart to attend university. My fishing was around the bays of Hobart and the Channel. From the shore we caught mullet and salmon, but best were the oysters and mussels which we cooked on fires. As typical uni students we always washed them down with copious beers. I did have the opportunity at this time to walk into the original Lake Pedder. How spectacular that was. Then in the last year of my four years at uni with Pedder being flooded for some time, my dad and younger brother travelled from Winnaleah to catch the monsters. I was able to join them. As they were bait and lure fishermen, I had no flyfishing experience at that time. I caught my biggest trout ever. It was a solid 12 lbs. Fishing from a boat my dad thought he was snagged but then from the dark tanned water an 18lbs trout burst onto the surface and it had to be gaffed. A breathtaking fishing experience in a breathtaking environment.
In 1975 I was appointed to my first teaching position. I was appointed to West Launceston Primary where Tony Richie and Charles Peck had children attending. I soon started fishing the St Pats and Brumbys Creek. Tony would be at Brumbys and kept encouraging me to throw away the spinning rod and take up fly fishing.
So, off to Don Gilmour's Adult Education Classes I went. He encouraged me to buy a fly rod. On his suggestion I purchased a Jarvis Walker fibre glass rod. It was heavy and the butt was thicker than my thumb. I battled for a few months swapping between spinning and fly fishing.
On a family picnic outing my wife closed the boot of the car and smashed my fly rod. I now carry my rods in cases, a lesson learnt.
I went to Terry Charlton's store on the corner of the Kingsway. He suggested a rod and told me to take it home and try it out over the weekend. Unfortunately, as I was fishing the gum tree edge at Brumbys top weir, I broke the tip. Very embarrassed, I took the rod back to Terry. He said not to worry. I purchased a new rod from him, but not that one!
Finally, I caught my first fish on a nymph at Brumbys Creek and I was hooked for life. Tony Richie continued to encourage and give me advice in those early days. Tony and the Burling boys spent many hours at Brumbys in those days, as were numerous club members with their canoes. Lionel Williams and wife Margaret were often seen cruising around the willows.
I decided I needed to know more about flies, so I enrolled in Noel Jetson's fly-tying classes. This was so beneficial in understanding fly life and fly presentation. Until then I was a novice in fly selection.
Tony Richie nominated me for membership, and I think this was sometime in 1977. I recall going to the St Pats football ground change rooms where the meetings were held. Members such as David Scholes, Max Bertram, Eric Sims, Ray Klimek and Charles Peck were great encouragers and an inspiration to a new member.
Whilst teaching at Longford in the late 1970s and early 1980s I lived in a schoolhouse next to Longford primary school. I would drive to Brumbys at dawn, fish until 8:00am, then rush home to change and go to school. I would jump the fence at recess time to have breakfast. Then, at 4:00pm, I would leave school and head back to Brumbys Creek. It was like an addiction; I couldn't get enough of fly fishing.
I have a very understanding family. My wife Carol has remained so and has never denied my fishing. We also have two daughters, Fleur and Shannon. Now that Carol and I are both retired, she can't wait to get rid of me to enjoy time alone!
From Longford I was transferred to Fingal as acting principal. There I had some great days on the Break O'Day, South Esk and Lake Lucy Long, an oxbow off the South Esk.
After six months I was transferred to Campbell Town District High. Many of my students' parents had properties along the Macquarie River. This gave me great access to both sides of the river. At that time there were fabulous red spinner hatches. I fished Kenilworth which was owned by Ian Taylor. It was ideal as it had a private bridge connecting the two family farms. Sadly, in recent times, this bridge has been destroyed by floods and is in disrepair.
In 1986 I was transferred as principal to Branxholm school. This was back close to my childhood home, so I was able to revisit many of the fishing waters I had fished as a boy. Many of the locals fished but my pupils refused to tell me where the top fishing spots were. Their dads told them not to say. Then I began afternoon school fishing trips in summer and the dads came to help. I soon knew all the good sections of the Ringarooma River and Ledgerwood Creek. These waters were wonderful at grasshopper time.
During the years I was moving as a principal it gave me a great opportunity to utilize the Club Shacks. Little Pine became my favourite even when it was old and crumbling. A challenging lake but having fished it for so long you get to know its secrets. I have a good understanding of wind directions, shallow weedy areas and places where duns hatch, especially on the back shore. Once I did that journey three times a day but now only once. This lake fascinates me, challenges, and makes me frustrated at times.
I have had the opportunity to fish in other parts of the world. I have been to the USA twice fishing Montana, Wyoming and Louisiana. The Big Horn River was fantastic as was Yellowstone. The Missouri was challenging but plenty of fish and fishermen. Before Covid I had the opportunity to travel with club member Tom Sappala to his homeland and fish Finland. Great fishing and a beautiful country. As my wife is a Kiwi, I have also fished the North Island of New Zealand when visiting family.
Upon retirement I have moved to Longford. Unfortunately, the rivers and in particular Brumbys Creek no longer fish as well as they did. Changes in farming practice have destroyed the fly life. Once it was sheep and cattle, now there is heavy cropping with irrigation and chemical sprays. Longford has a village feel and is still central to the highland lakes and Four Springs.
I am very much a dry fly fisher but often use a nymph under a dry. I am very much a user of traditional flies.
I have perfected my Possum Emerger which has served me well at Four Springs, Penstock and Little Pine. It is my go-to fly on most occasions, and I would never be without it in various colours such as black, brown and grey in my fly box.
Possum Emerger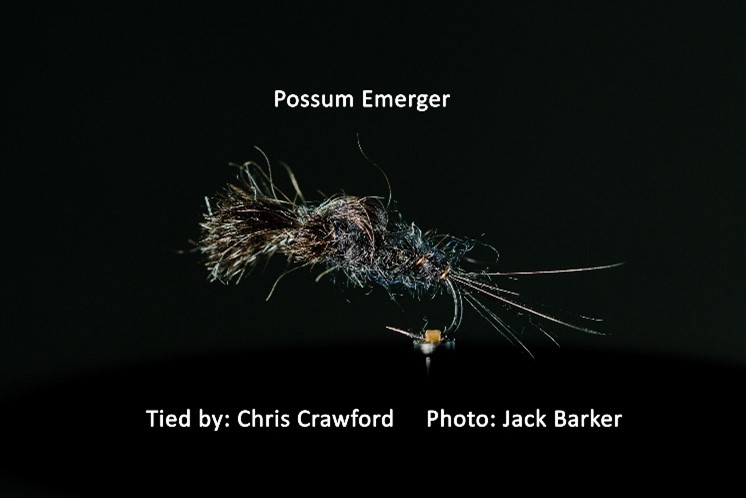 Size 12 or 14 Tiemco dry fly hooks (black hook).
1. Use black silk and wind down from the eye to bend. Tie in a few black tail feathers.
2. Tie in copper or silver wire at the tail.
3. Dub black seals fur or possum fur to about 1/3 of the body.
4. Wind on 3 or 4 turns of wire up to the end of dubbing.
5. Tie in a clump of possum tail fur with the cut ends (butt) facing the eye of the hook.
6. Dub on a clump of possum fur to form an abdomen. Don't make it too big and tie off leaving room before the eye of the hook.
7. Bring possum tail over the top of abdomen to form a wing case.
8. Tie off.
9. Pull the possum tail fibres back over the wing case and cut off. This can be as long as you want but usually just back to start of wing case.
10. Whip finish. The tuft should be sticking up like a wing.
To fish it I usually put a drop of flotant on the wing case. The fly can be fished blind or in front of rising fish. Sometimes it can be fished inert or moved.
The little tuft is what I follow and is very visible on dull dun days.
Written by: Chris Crawford.   Copyright 2022, all rights reserved.
Photography: Jack Barker.