Penstock Commando Raid
Having established that there was a very short window of opportunity spread over two days Brian Mattschoss and Myself decided a quick raid on Penstock Lagoon was in order. After a bit of back and forth on the email merry-go -round we set a rendezvous time and location for late on a Friday afternoon. The weather was a bit risky but Friday evening turned out to be mild and calm with several Duns visible on the water. The unpacking process took about 7 minutes in those conditions and rods were assembled, waders donned and flies selected in record time. Four hours of fishing time was about all we could reasonably expect so Brian chose to set up close to Koongara while I moved further afield towards the dam wall.
As I was using the 13ft spey, my plan was to fish a rig with a damsel fly nymph on the point with a stick caddis or mayfly nymph on a dropper. If the Duns and trout really began to show themselves I figured I could quickly swap out my leader configuration and give the dries a go. Brian's stated plan was to persist in situ with a Penstock Brown dun and play the waiting and watching game.
Somewhere close to dusk we met up to compare notes and it was clear that Brian had made the better decision regarding tactics. I remained scoreless and in fact had only seen one or two rises during my mission. Just to reinforce this Brian promptly hooked another good fish but was left frustrated when a flying loop of fast moving line transmogrified into a tidy half hitch which landed with precision around his reel seat. With only about a half hour of daylight remaining I decided to play the odds as well, clipped off my flies and tied on the most visible and high riding elk hair In the box. The problem being at this stage that a dry fly had no chance of surviving a conventional spey cast without drowning so an overhand was the only option. The challenge would be to pick up and cast that 36ft head, with no false casting allowed or even remotely possible. After two shocking casts I finally got the timing right and was rewarded with a respectable presentation promptly followed by a riseform somewhere near to where I thought the fly might be.
It was getting pretty dark by then , but the guess was right and we had a small but solid rainbow which was quickly landed and returned. With the darkness nearly complete my last cast was launched with more hope than style but a fair pile of line disappeared into the gloom. Some sort of muscle memory made me sharply lift the spey within seconds and a very solid fish started to go nuts a lot further out than was expected. With some luck and the help of 13ft worth of side strain a beautifully conditioned rainbow was brought to hand, photographed and quickly returned.
Felling completely blessed by some wonderful fishing we finally headed back to Koongara ( in total darkness) to prepare some food, savour our success and prepare for the dawn patrol.
Dawn Patrol- Lessons in patience from Mr. Mattschoss
We were expecting to hear rain on the roof before dawn but the morning was surprisingly warm and very still. There was no doubt that the expected cold front was not too far away so breakfast was a hurried affair of Espresso and Danish. I am a big supporter of the caffeine and sugar theory of successful fishing taught to me by my Grandfather so many, many years ago. It probably explains my chronic hyperactivity as well. Our plan for the morning was a repeat of the night before with the added confidence of a few good fish already landed. The conditions were stunning and the Duns were evident in small numbers in the more sheltered bays. What became quickly apparent was that the trout were working these duns very close to the shoreline, often within a metre of the bank. I cast to several fish by wading deep and casting back into the shore but my fly selection or presentation was obviously lacking in
some way. The air was so still that I clearly heard the splash of a fish taking Brian's fly from over a hundred metres away and could watch the ensuing battle taking place off in the distance. After a period of time it became apparent that there were lessons to be learned by simply watching Brian for a while, so I headed in his direction. He had also recognised that the trout were cruising close in and his head was pivoting left and right trying to monitor the shoreline in both directions. I was about to ask him how he was doing when we both saw a rise within 3 metres of Brian. He had it covered immediately and was soon losing line to what turned out to be a brown of about 3.5lb. I found a comfortable position to rest and watched Brian cast to several more fish and land a few more. His reflexive casting and accurate presentations were a demonstration of classic dry fly fishing in a stillwater situation and a pleasure to watch. By now the weather had begun to deteriorate and the wind had risen to the extent that the duns were no longer in evidence and the rises had faded away entirely. The barometric pressure was plummeting with the air temperature following it down. Brian had landed three good fish for the morning and he had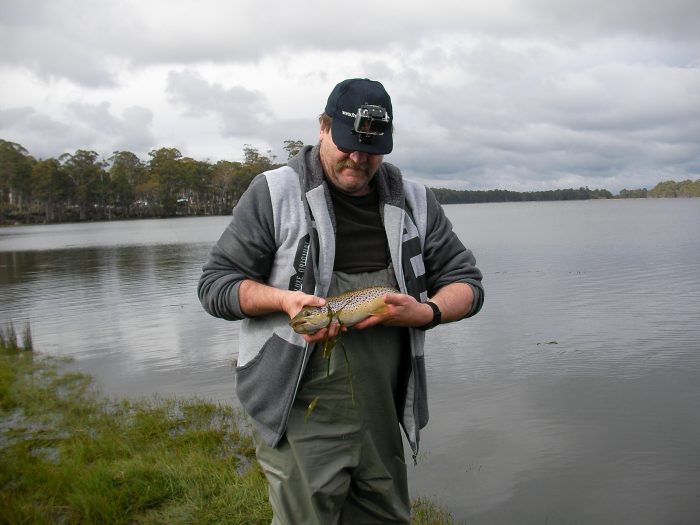 not moved more than a metre from where he had started. It was a great morning but the time had come to pack up and head home to chores and commitments. On the drive home the dark clouds formed a solid mass to the northeast which ultimately resulted in a significant rainfall event.
And so our raid on Penstock finished with well earned memories of beautiful conditions, wonderfully conditioned trout full of fight and some clever and perhaps lucky fishing. It was a good trip, a very good lesson in patience and technique from Brian and one for the campfire sessions to come in the future. Thanks to the FFCT for the overnight use of Koongara. That is a privilege beyond compare and never to be taken for granted. Tight lines…….Jimmy Ellenberger