Barry Gough- Goughie's Fly Story
I was born at Mathinna in 1930. My father was the trooper and, in those days, there were no fancy four-wheel drives for the policemen like they have these days. My Dad rode a retired racehorse. It was the start of the Great Depression. We had very little money, no toys at all and you couldn't buy them anyway.
Dad used to fish the South Esk with a couple of the local business men, at what we knew as the 'Four Mile'.
After five years we moved from Mathinna to Fingal. It was at Fingal I started fishing. The lady next door used to take me down to the South Esk river in the town. We lived there until WW2 started. I fished with a pole about six feet long with a fixed cotton line about the same length. We used worms for bait.
Later my father bought me a bamboo rod from a shop in St Marys.
In 1938 the police issued Dad with a Harley Davidson and side car. We would meet his replacement from Mathinna at Lake Lucy on Malahide, not far from the main road. We had great times there. As kids we would tickle trout in the river in Fingal township, but mostly I Perch fished.
Then the war started and about 1941 Dad was transferred to Hobart. We were there about three years until Dad was transferred to Launceston.
By then I had a bike. A mate, Peter Broxam, and I would ride to Windemere. We would fish for cod from the old jetty just down from the present Windemere church.
In 1945, three weeks after WW2 ended, I got a carpenter's apprenticeship with J & T Gunn. I was 15 by then.
In 1948 I bought a motor bike and started trout fishing more seriously in places like Diddleum Plains and the Camden Creek. We fished mainly with grasshoppers. It was a good experience because it taught me how to read streams and rivers.
My grandparents lived at Pyengana and I did a bit of trout fishing in the Groom River. I fished upstream with the grasshopper same as you would fish with a fly. I was still fishing with my old bamboo rod Dad and Mum gave me at Fingal.
In 1956 I was a friend of Neil Robson, the two of us fished together. I knew Clive Genders and bought a Young & Sons fly reel (which I still have) at Genders. I started fishing more seriously with the fly about then. It took me a fair while before I caught my first fish on a fly. I bought my flies from Roger Sculthorpe's shop in Brisbane Street.
I was always a competitive rifle shooter and bought all my fishing and shooting gear from Roger.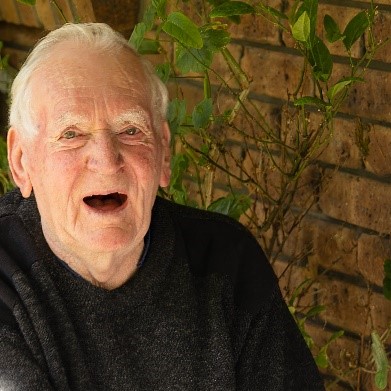 Aileen, (my wife was from a farm at Pyengana) came to town in 1956 and we married in 1959. We had two sons, Phillip and Robert and a daughter, Leonie.
The family went up to Arthurs Lake one day and we decided to apply for land from the Hydro and eventually were allocated a block overlooking the lake. I built a shack there and over the years turned it in to a comfortable and spacious amenity. This was after the Arthurs Lake dam had been built and the lake was still filling.
At Arthurs I always flyfished. I could always hold my own when fishing with other fly fishers, in fact one year I caught over 450 trout from Arthurs.
The biggest fish I caught from Arthurs, believe it or not, was a 6lb Rainbow. People say there were no Rainbows in Arthurs but a bit later I caught another one right in front of my shack. I have never heard of anyone else catching a Rainbow from Arthurs.
In Arthurs I fished with Reg Clayton a lot and David Scholes. David would often stay, as did quite a few others.
I started tying flies when Arthurs Lake was just starting to flood. All the scrub was green and as the lake flooded there were bulldozer tracks through the scrub where the green scrub was submerged. The trout used to parade up and down those tracks feeding on midges. You could pick up midges by the handful; you could scoop them up by the cup full. The hatches were prolific.
And there used to be little black flies in those bulldozer tracks, the same size as sheep blown flies. And that is where Goughie's Fly came from. I found my fly was the best fly I ever had to ever fish rivers with. I tied the fly once, it worked and I have never changed the pattern since then (1964).
I went into Roger Sculthorpe's shop and he had some English hooks there. Sinfalta I think they were called, size 13, wide gape, just the size I wanted. I bought them all cheap. Nobody would buy them because one in three the point would break off. The ones that didn't break off held the fish well.
One day in Jones' Creek I caught my bag in 55 minutes using Goughie's Fly.
I don't think you can tie a really unique dry fly. Every dry fly you see looks a little bit like something else. Wet flies you can tie differently, but not dry flies.
Fishing wet, I found a little black beetle fished upstream was far superior to a nymph. Especially in forestry areas.
I really enjoyed fly fishing because I was out in the country. I had a pretty tough life as a kid. I grew up in the Great Depression and then there was WW2. I left school at 15 the year the war ended.
I fished with a few people, David Scholes and Reg Clayton. I enjoyed fishing Lake Explorer with Charles Peck. I joined the FFCT about 1965 and have met a lot of good people. Len Smith suggested I join and Max Bertram seconded my application.
I managed to accumulate a few keepsakes over the years.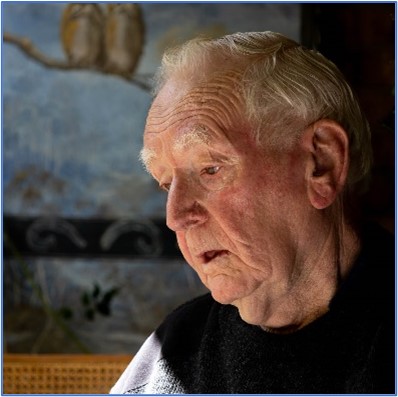 I am proud to have the first new fly reel David Scholes ever owned, a Hardy Monogram. I reckon it would be about 70 years old. You can see the marks from David's line where it has scored deeply in to the reel frame. David sold it to Neil Robson and Neil gave it to me.
My old brass fly tying vice was made for me by Bob Thompson who was a member of FFCT. I also have an old collapsing brass gaff that collapses down to a 'donger'. It belonged to Charlie Dangerfield and was made by H. James, England.
Charlie Dangerfield was the best trout fisher I have ever known. He had a shack at Dee Lagoon. He fished the Great Lake in the 1920's when there were no bag or size limits; you could catch as many as you liked. He told me in 1927 the Great Lake froze over completely. A chap from Breona put chaff bags on his horse's feet and took the horse over the lake to the other side. He felled trees and the horse dragged the logs back over the frozen lake home to Breona.
I have two rods at present, a Sage and a Fenwick. I haven't fished for two years now, its pretty difficult to get away. Looking back over the years I have had a good run.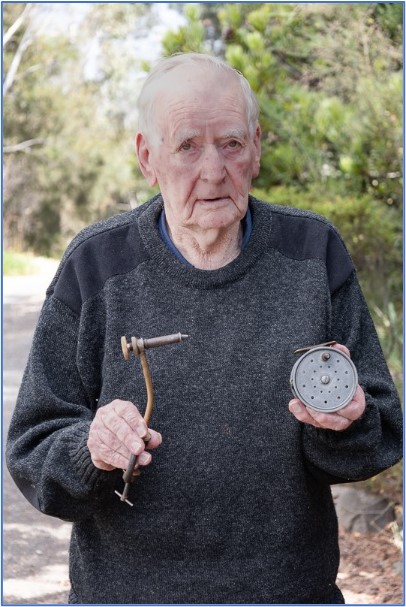 Barry holding his fly vice made by Bob Thompson.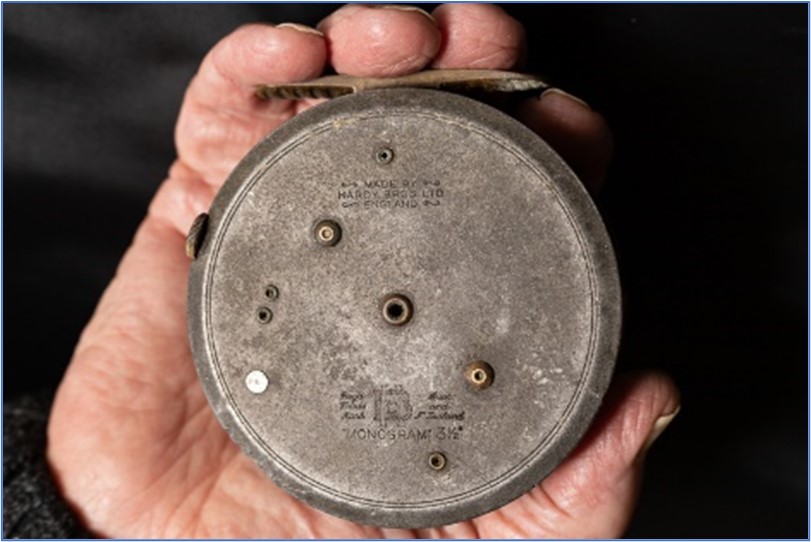 David Scholes' Hardy Monogram fly reel.
Goughie's Fly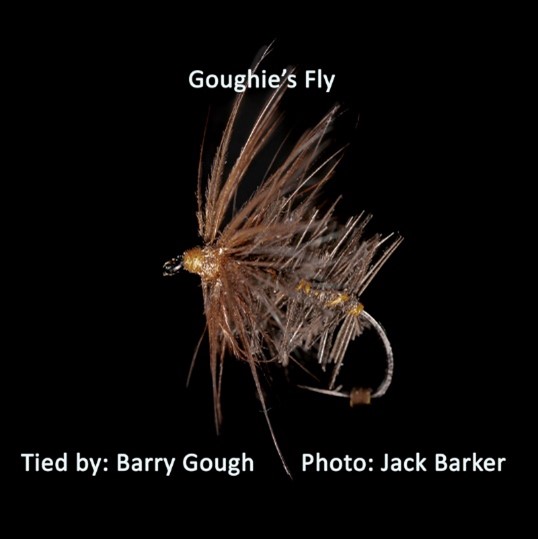 Hook: #12 wide gape, down eye
Body: Black hackle feather
Hackle: Two Rhode Island Red stiff cock hackle feathers
Method: Palmer tie on the body hackle and taper slightly towards the bend of the hook. Length to be as long as the hook gape. The main hackle should be fairly short and wound on tightly.
Barry's story as told to Jack Barker and Muriel Rollins. Flies tied by Barry Gough Photography: Jack Barker and Muriel Rollins Copyright 2022 All rights reserved.