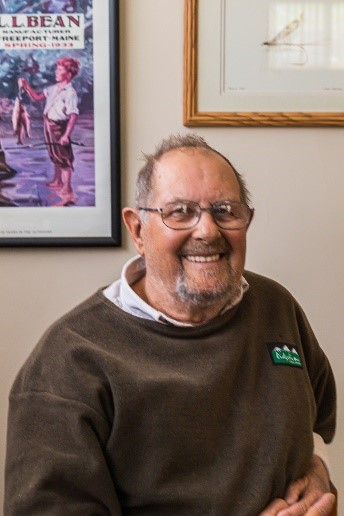 I was born in Fifeshire in Scotland and started fishing when I was six years old. My uncle owned a farm in the Lomond Hills and through it ran the Lothery Burn (creek). It was my uncle who gave me my first rod. It was basically a cane pole, had a small brass reel, catgut line with a fly attached.
The first time I went fishing in the Lothery burn it was in spate (flood). Somehow, I just got the line out in to the water and started to retrieve it and caught a trout on my first cast.
About thirteen miles from where I lived was the River Eden which was a superb dry fly stream and I spent a lot of hours on that river in my early days. I remember there were great hatches of duns. 
I used to cycle there on my sister's bike, I was so small I couldn't sit on the seat.
My best day on the River Eden was fifty-eight fish on the dry fly. The Red Quill was a great fly in those days. We used to fish three flies, a Red Quill, a Blue Quill and a Badger. If you couldn't catch fish on these three flies then forget about it.
By that time, at the age of twelve, I had made my first rod out of a railway shunting pole. In those days the shunters used hickory poles, I had to buy the ferrules and parts and put it all together. It wasn't really good but better than what I started fishing with. But, I had made it myself.
Also, about that time was when I started tying my own flies.
Around 1955 I progressed to fishing Loch Leven which was the Mecca for fishing in Scotland. There were fifty boats on Loch Leven and it cost two pounds to hire one, which I had to save up for. I remember Frank Walker and I set a record for Loch Leven, we caught forty-seven fish on the day. All wet flies, Blae and Black, Kingfisher, Butcher, all traditional wet flies, still used today.
All my fishing was still on cane rods. I had graduated to a Hardy Palakona cane rod by then. Lucky we were fit and healthy as those Palakona rods were heavy as hell but there were no other rods you could buy back then.
About this time, I got into professional fly tying. I had my own catalogue and would tie at night after work. I would tie twelve to fourteen dozen flies a week and had about eighty customers.
During the day I worked as an electrician progressing to electrical engineering.
I enjoyed sea fishing after dark. I would tie on a Teal and Silver and below the fly were two maggots. I enjoyed chasing sea trout in the River Eden.
I used to fish with a chap, a lot older than me, Bob McKinnon. He used to smoke a pipe. He would keep his maggots and tobacco in the same pocket in his vest, always handy. One day he was grumbling his pipe wouldn't light, to find he had stuffed his pipe full of maggots instead of tobacco.
I used to fish the Salmon runs too in the North Esk River. We used fourteen-foot double handed cane rods, my largest fish weighing twenty-six and a half pounds.
In 1964 we came to Tasmania. Comalco hired me from Scotland and for a fishing fanatic this was a dream come true. I had read a lot about Tasmania and couldn't believe my luck. I could not believe the size of the fish I was catching 'up the lakes'.
I headed for the Western Lakes straight away and the first fish I caught was in Lake Augusta. It was polaroided on a nymph. I couldn't believe how much fishable water there was. I regularly camped at Silver Lake for twenty-five years.
By this time, I was fishing with a Hardy Jet fiberglass rod. In fact, I imported one of the first carbon fibre rods in to Tasmania around 1969-70. It was a Cortland and I've still got it.
I wished I had fished the Shannon Rise but that ended in 1963. I enjoyed my fishing with Charles Peck in Shannon Lagoon in the seventies, but it wasn't dirty then.
Around 1967 I built a shack at Brady's Lake and fished Bronte Lagoon a lot. The fishing there was fabulous, tailing fish nearly every morning and stable water levels.
My interest in building cane fly rods was aroused by fellow club member Peter McKean. He gave a talk on building cane fly rods at our club meeting one night as guest speaker. I always had it in the back of my mind to build a cane rod but what put me off was the planing forms. You had to import them from the USA at a cost of five or six hundred dollars.
It took me a week and a half to make a set of planing forms. This was around 2014. I used a Stanley Sweethearts block plane. It has an adjustable throat and when you plane a sliver off the cane it is so fine you can see through it. I used five thousand grit stone to sharpen the plane blades so you get a super sharp edge on the blades. I made my own plane blades as well.
Jim Payne was a famous cane rod maker in the US and I particularly liked his Payne 101 taper. This made a seven-foot six-inch rod that was superb. Payne's rods sell for fifteen thousand dollars today, if you can buy one.
I also designed/made a Four String binder which was nice and fast and sped the binding process up while the glue was drying. You had to finish binding under twenty minutes before the glue dried. Ferules, line guides were still bound by hand.
I have scaled back my activities now but I still enjoy my flyfishing just as much as ever.