Red Spinner Tales – Cliff Oliver and his Arthurs Nymph
From English Geezer to Trout Whisperer.
I was born in 1934 at Bexley Heath, Kent in the UK. In my early years I was raised by my grandparents. My earliest fishing memories are with my grandfather. My father was away in the Navy. I would have been four or five years old; my grandfather and I were very close.
We used to bait fish with maggots, and they would be dyed different colours, pink, green, blue. They were called gentles and we kept them in the fridge. I remember one day we were fishing, and grandad was getting bites and I wasn't. I asked him why and he told me my gentles weren't wriggling enough, they need to be warmed up. How do I do that I asked. He told me to put the gentles in my mouth to warm them up. He stopped me just in time, he was quite a character my grandad.
We fished local rivers and ponds and grandad used to catch a fish, wrap it in very wet grass and hang the fish over the bonnet of the car with string. He would then drive to Dansons Lake to release them. Dansons was twenty-five to thirty miles away and the fish would survive the journey and swim happily away when released. A nineteen thirties version of catch and release.
When WW2 broke out there was no fishing. You couldn't travel anywhere, there was no petrol and in war time Britain you had to have a good reason to have petrol. Everything was rationed and fishing was not a good reason to have petrol.
During the war I was evacuated to eight different towns around the country. Wherever I was sent we got bombed and eventually Mum decided I should move back to London. Mum reckoned Hitler was following me. I remember vividly the putt-putt sound of the Doodlebugs. If the motor sound stopped the Doodlebug dropped to the ground and the effects were deadly to people and houses where they landed and exploded. When you heard a Doodlebug, you prayed you wouldn't hear the motor stop.
After the war when I left school my first job was selling bread and cakes from a horse and cart. When I was seventeen, I decided I wanted to join the navy which Mum wasn't keen on as Dad was in the Navy and was killed in the war in Narvik on HMS Hotspur. My Homebase became Chatham, in Kent.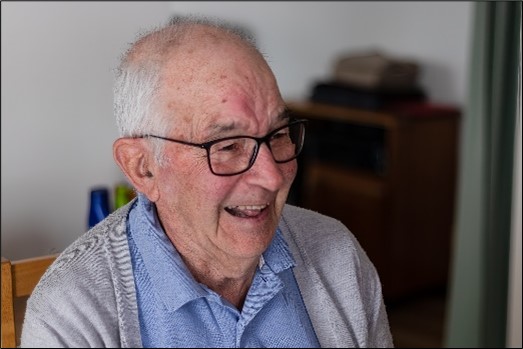 The Navy sent me to Singapore in 1952 to serve as a stoker on the Dampier. I was in South East Asia for two happy years travelling to Penang, Borneo and everywhere in-between. I also served in the Caribbean. I travelled the world with the Navy and loved it.
I met Dot in July 1959 and we married in September 1959. In 1966 Dot and I came to Australia on the ship Canberra. On arriving in Tasmania I got a job at Dornaufs, the smallgoods wholesaler. This eventually would have a significant influence on my fly-fishing journey.
I left Dornaufs and with the family bought a mixed business at Waverley. About that time I had been in to Sportsmaster Distributors and bought a fishing rod. I wanted one that I could both flyfish and spin with. They explained you can't have a rod that does both, so I settled on a cheap fly rod, reel and flyline. I used this outfit to fish the St Pats River.
About this time a young fellow (12-13 years old) who used to come in to the shop, offered to show me some fishing spots if I was happy to drive him around. He took me to the Ben Lomond Rivulet. Mr Green the foreman of the property would give us permission to fish there. I think the Camerons were the property owners.
At that time, I basically was self-taught as a fly fisherman. I didn't have a clue about flies, so I used to catch grasshoppers and use them. One day I chanced upon another fisherman who asked me what I was fishing. When he heard I was catching and using grasshoppers he gave me two beetle pattern flies and told me it will save me catching grasshoppers. So, history was made. The first trout I caught on a fly was with a Ti-Tree Beetle on the Ben Lomond Rivulet.
We sold the shop in 1972. Dot and I went back to the UK for eighteen months, returned to Tasmania and Dornaufs. John Dekkers worked at Dornaufs, (his father Gerry gave me the job), and we worked together. I started fishing with John and Ray Costello. John took me under his wing and straightened out my casting and helped me with tons of other advice.
I have great memories of John, Ray and I fishing Brumbies Creek when it really was a premium water. We used to catch magnificent fish there.
John Dekkers was a big influence on my fly-fishing. He started me on tying flies. Jim Ferrier was also a big influence on my fly-tying too.
I fished with Jim Ferrier for nearly twenty years and thoroughly enjoyed every minute of my time with him. In the late eighties and into the nineties we fished Penstock off the shore and used Max Bertram's boat at Little Pine Lagoon. Eventually Jim bought a boat to save us walking so far around Penstock and Arthurs.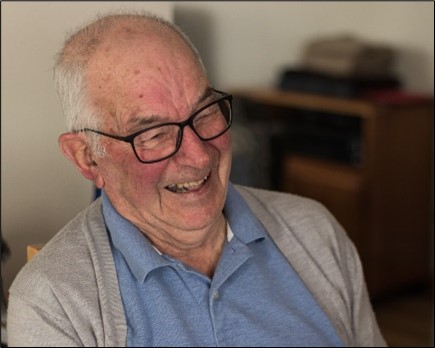 We would leave home, fish Arthurs, until about half past four and then back to Penstock for the evening. Arthurs produced more fish but the fish at Little Pine were better quality in my opinion. We would stay at the Little Pine shack sometimes but mostly we stayed at Jim's shack at Penstock.
We would also fish the Break-O-Day in the Fingal Valley and South Esk from Panshanger up to Cressy, until those rivers went downhill. Unfortunately, the fishing in those two rivers today is not what it used to be.
At Brumbys Creek, the Bottom (third) Weir used to always have people fishing it, but today even the Top Weir at Brumbies is mud and silt in a lot of places. There used to be amazing fly life, the Caenids, duns, red spinners, beetle hatches were prolific. Jim and I would sneak up on the fish in Jim's canoe. It's hard to explain, it was such magic fishing. The trout would sit just under the surface and be rocking up and down, like a rocking horse, sipping down the Caenids. You had to time your cast with the rhythm of the rocking feeding fish, cast too soon or too late, the fish ignored your fly.
I joined the Flyfishers Club of Tasmania in 1987. It was the best thing for my fishing that I ever did. I made a lot of friends, and it taught me a lot. I fished with Jim Ferrier, Jack Barker, Peter Berne, John Dekkers, Ray Costello, Graeme Chapple, Peter Ray and many more. Those people I learnt so much from and got to know. Max Bertram and George Harding were great characters. I was club treasurer for three years and on the committee for a few years too. I also represented the club at the Freshwater Anglers Council of Tasmania (FACT) many times. I was made an honorary member in 2018. I was proud to get the Tanglefoot Trophy in 2001.
The biggest fish I ever caught was over six pounds on a possum fur nymph right in front of the club shack at Penstock at 8.45pm late one evening.
I enjoyed fishing the Nineteen Lagoons in the Western Lakes also. Jim and I fished First Lagoon, Howes Lagoon, Carters, Flora, O'Dells and others, but my favourite was Lake Kay. You could wade Lake Kay, walk the shore and always find a fish. I loved casting a nymph into a gap in the weed and let it sink. I would strike whenever I felt the slightest touch. Mostly it would be weed, but now and then it would be a good-sized fish. They were nearly impossible to land because of all the weed but it was exciting fishing all the same. As long as I was getting takes, I was happy.
A fly that was very successful for me in the Western Lakes was George Harding's 'Skinny Red Tag'.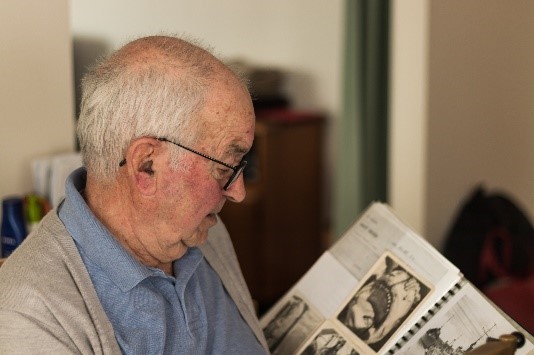 I can't drive at night now; my eyesight is not what it used to be and driving at night is unsafe. So, I can't get to club meetings and I miss the company even though I don't fish so much anymore.
While I was fishing Arthurs Lake, I came up with a nymph fly pattern and it has worked very well for me and others I have shared it with. For want of a better name I just called it the Arthurs Nymph.
This is the tie for the Arthurs Nymph.
Hook size: 12, wet or dry fly, doesn't matter.
Body: Seal's Fur, dark brown.
Tail: Brown hen's feather.
Glass Beads: One black, one amber.
Wire: very fine copper.
Tying Method: Tying Method:
Put the 2 beads on the hook (black first) build a thorax between the 2 beads, tie off. Next, tie the tail and copper wire on at the tail end. Add seals fur up to the amber bead, bind with the copper wire, bring your tying cotton with it, tie off.
That's it, not hard to tie.
How to fish it: Cast out and just stay in touch with your Arthurs Nymph. Let it drift so the line is as straight as you can keep it and a trout will find it.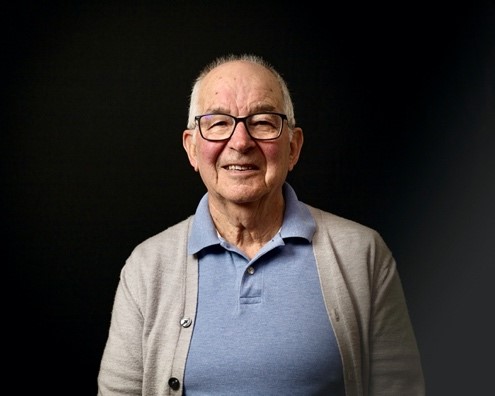 Cliff's story as told to Jack Barker and Muriel Rollins. Flies tied by Cliff Oliver. Photography by Jack Barker and Muriel Rollins. Copyright, 2021 all rights reserved