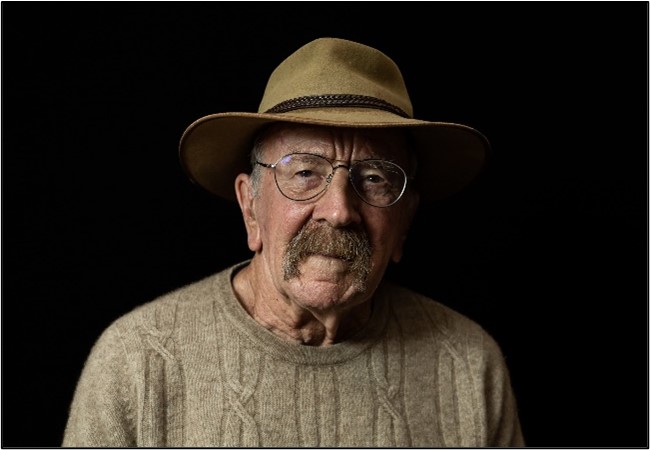 I was born in 1945 in Oswestry, Shropshire in the UK; not far from the Welsh Border.
I started fishing when I was about ten years old. I taught myself with three or four friends from school. We used to fish the Morda Brook for Bullheads and occasionally would catch the odd trout. We would drift a worm down the brook weighted by split shot about twelve inches up from the hook on a nylon line. We started by drifting the worm with a pole and fixed length of line and later, when I was about fifteen, I upgraded to a spin rod and reel combo. We would walk across the fields, using 'Right of Way' paths, to the brook. By the age of 13 we each had pushbikes and were then able to venture further afield.
The Morda Clay hole was a popular spot, where we coarse fished for Chub, Tench, Roach and Rudd. The Mill Stream at Maesbury was where we caught Trout. The worm or bread we used for bait was suspended under a float and drifted.
At nearby Middleton there was a larger pond and we would catch Pike using a large float with live bait suspended below, fishing the edge of weed banks, which was great fun.
When I left school at fifteen, I was apprenticed as an electrician which took five years, including night school, to graduate. My job took me to various parts of Shropshire and Wales and I often presented the local Publican with Trout for my dinner.
I came to Australia in 1973 after about three years in South Africa. I was lured to South Africa because Taxation rates in the UK were too high; in those days I was paying 48% tax.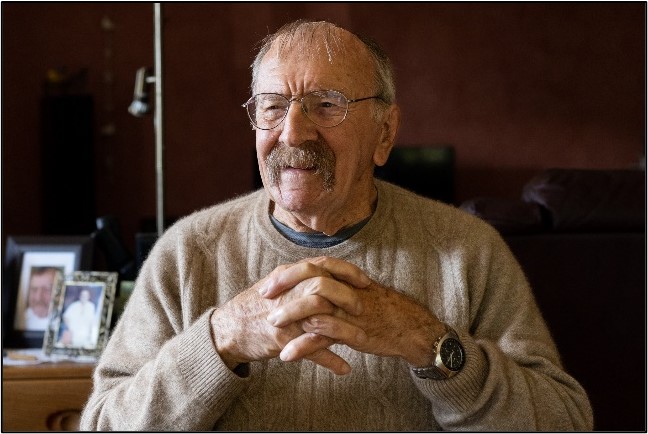 South Africa is where I met my wife, Paulene. We married in Melbourne in 1974. Paulene had been on a working holiday headed to the UK; I was on a working holiday headed to Australia.
The first time I fished in Australia was on our honeymoon at Lake Jindabyne. I saw all this water and thought there must be trout in there, so bought a Jarvis Walker spin fishing combo to try on the Lake. I didn't catch anything; even though I kept fishing until 10:00pm. 'Pay back' came the next day when Paulene caught the first fish.
From then on, I fished all over country Victoria. The Kiewa, Mitta Mitta, Ovens, Buckland, were among my favourites. Still with worms; it was the only way I knew how to fish.
We lived in Melbourne for 5-6 years, during which time we had Scott in November 1977 and twins Matthew and David in 1979. We travelled everywhere to fish any river that held trout, although not as frequently once the twins arrived.
One day on the Goulburn River, (near Snobbs Creek), I observed an elderly gent on the opposite bank fishing. He was dressed very prim and proper, pipe hanging from his mouth, puffing away and he was fly fishing. I was impressed with this style of fishing, the casting action to me looked like poetry in motion. I never saw him again but he left a lasting impression. I decided I had to learn to fly fish.
In 1978 I bought a Fenwick Boron X fly rod 6 weight, and Hardy Fly reel, some books on fly fishing and fly casting and taught myself to fly fish. The first fish I caught on a fly was using a Royal Coachman; never to be forgotten.  And that was almost forty years ago.
I also remember it took me twelve months of fly fishing before I caught that first fish.
In 1980 we moved to Tasmania due to my work. We decided to live at Scottsdale in 1981 and I was soon out fishing the local streams; the Ringarooma; Dorset; New England; St Patrick's; the Great Forester; Blackman's Lagoon; the Big and Little Waterhouse Lakes; the North and South Esk.
The first fly I tie on is usually a size 14 Red Tag or a Potscrubber Nymph. When fishing wet in a stream you can't beat a Potscrubber Nymph (Wigrams size 14). I am a big fan of upstream nymphing but I also fish across and down. An Iron Blue Dun was another effective fly for me on the North East streams.
In 1981 I also began tying flies, gaining a good local reputation and it wasn't long before several fishermen came to me for lessons. Gerald Priestley was one who came early on and became my long-time mate. Now, at 90 years young, Gerald is still intensely keen on all aspects of fly fishing.
About this time I also met 'Young Bert', Mick Blackwell, who took me under his wing and told me to leave my Spinning Rod at home and concentrate solely on Fly Fishing.
Like many other fly fishers, I don't believe in tying bulky flies. Tie them sparsely, they are more natural looking in the water, like the real thing. My 'sparse' philosophy has served me well on many NE streams such as those mentioned above and the Camden Creek and various tributaries.
In 1985 our daughter Rachelle was born on the same day I was offered a position with the Inland Fisheries at The Salmon Ponds, Plenty. It was a temporary position and we lived at the Ponds while I worked there for 16 months.
Dave Roney, a local from Scottsdale, introduced me to the Highland lakes. My favourite water used to be Lagoon of Islands; it was fantastic fishing. The first trout I caught there was three to four pounds. David came up to me and said 'chuck it back, there's bigger fish than that here'. It was normal, at that time, to catch fish of six and seven pound.
St Mary's Creek was the only stream feeding into Lagoon of Islands until the Inland Fisheries decided to divert water from Ripple Creek into the Lagoon to encourage Trout to swim up the Ripple Creek Diversion and spawn. This was an attempt to make it a self-supporting fishery. Unfortunately, over a period of time, the Ripple Creek Diversion proved unsuccessful due to clay held in suspension in the water, adversely affecting the aquatic life.
I was introduced to the FFCT by John Morwood, whom I met when fishing Brumbies Creek. Over the years I have fished with several Club members. Chris Crawford, I encountered on the Ringarooma River, with Jack Barker I fished the Upper South Esk and met a few members of the Club while fishing Little Pine.
It was 2007 when I was diagnosed with Parkinson's Disease. One benefit that came out of Parkinson's was the tremors aided fishing a Nymph, normally one would figure 8 the line in one hand which continually worked the fly, the tremors just did this automatically for me. Of late my balance has affected my ability to wade, but I'm still fly fishing.
In 2017 I had a Deep Brain Stimulation operation in Melbourne which took away the tremors, but still hasn't prevented other symptoms appearing. For several years I've been unable to get to many club meetings, firstly because of work, usually on the Mainland, or other parts of Tasmania. Now my Driving Licence has been cancelled due to Parkinson's and it's difficult for Paulene to drive me over the Sidling at night.
I was also a member of the Scottsdale branch of the NTFA; the Scottsdale Angling Club. They were a mixture of members, right across the board, but there weren't too many fly fishermen. Chris Crawford was living in Scottsdale. He was headmaster at the Branxholm Primary school. I met him streamside one day, we chatted and would talk fishing whenever we caught up with each other.
I would have to say the late Noel Jetson was a big influence on my fly fishing. We fished the St Patricks River a few times together. Heading 'up the Lakes' I would call in to his shop at Cressy and have a cup of tea with Noel and Lois. We had a lot of good chats in that shop. Apart from his Noel's Nobby grasshopper fly one of the best he came up with was his Jassid fly. For information on Noel's Jassid fly refer to Glenn Eggleton's book, 'Noel Jetson, Life and Flies'. ISBN 0 9775417 4 6. A great read, full of Noel's life story and many of his Fly Patterns.
I use Fly Rods from 3 weight 7 foot up to a 7 weight 9 – 10 foot, which covers all fishing of Rivers and Lakes in Tasmania.  Sage, Winston, Hardy are a few of the rods I use. My favourite is a Winston 6 weight, 9 foot.
Ugly Fly
I have a fly to share with you. For want of a better name I call it my Ugly Fly. It's a fly I have used very successfully on streams in the evening. There is nothing delicate about it. It is very simple, and if tied properly, very robust. Earlier I remarked about sparsely tied flies; this one is the exact opposite which shows rules are made to be broken when designing and tying flies that work.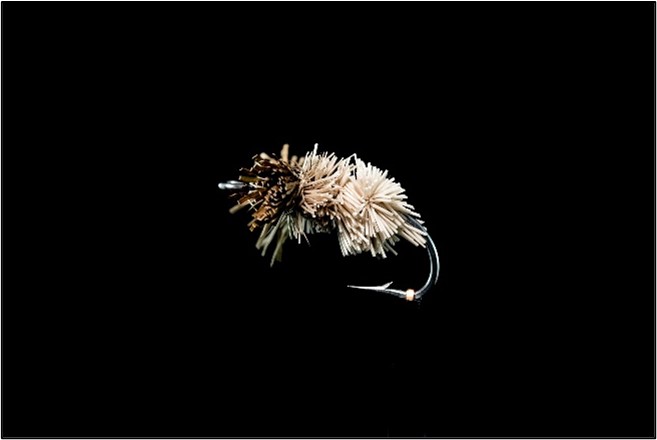 Hook: O'Shaughnessy Size 4
Thread: Black or brown
Body: Coarse deer hair. (I use Rusa)
Start in the usual manner tying in the deer hair in sections to build up the fly body.
Tie in the wing section using the figure of 8 method to trap the wing in the horizontal position, I also put some head cement on the figure of 8 tie to help secure the wing and finish with a large black head. Then trim the body to suit.
It is a great evening fly on a stream. I fish it up or down stream creating short twitches using my rod tip with a quick lifting action. It is my belief the fly traps air and twitching it creates noise and action that attracts the fish. I think it imitates a frog.
"If God created anything better than Fly Fishing then he kept it to himself."
Peter Blakeley's story as told to Jack Barker and Muriel Rollins                      © 2022 All rights reserved Photography: Jack Barker and Muriel Rollins                                                Fly tied by Peter Blakey