At 13 years of age, I was on one end of a cross-cut saw with my father on the other end. We were cutting and splitting fence posts in the bush near the upper part of Trout Creek in the foothills of Mt. Barrow. With us this day was an old gentleman wood turner by the name of Talbot, who was fossicking for burls etc., suitable for his work.
Note: Google Earth now calls this creek "Coquet Creek".
After lunch and a welcome mug of billy tea, Mr Talbot said to me, "come with me boy". As we headed off over to the creek he cut a thin piece of dogwood, attached about 3m of nylon line and about a size 8 hook. Also, on the way he kicked over a few old logs and collected a match box of worms.
The creek in this area was a series of small waterfalls of about 1–2 metres in height, falling into a frothing boil then spreading out into a crystal-clear pool. With a single worm loosely threaded onto the hook he would flick it up into the froth and bang! A trout was on. In about half an hour he caught several lovely plump fish of about 300gm.
From that day on I was HOOKED!
A few days later we had some heavy rain and with a nice spate in the creek I took myself back there armed with worms, and an old cane spinning rod. Well, the trout were in a feeding frenzy and in less than one hour I had 12 beautiful brown trout of about the usual size for that creek.
In the ensuing few years I dabbled with the worm and occasionally the spinner. I didn't have much success with the spinner, probably because I didn't persist with it long enough.
At the age of 16 I signed into a carpentry & joinery apprenticeship with WW Purse & Sons, during which my interest was diverted from angling to motorbikes and girls! After completing my apprenticeship, I went on a working trip around Australia, working in Kondinin and Geraldton, WA, and in Darwin, NT. I returned to Tasmania in 1956.
In 1960 I met and married my dear wife, Lynette, who has now put up with me and my fly-fishing obsession for 62 years. We have 3 daughters, Kim, Maree and Leanne. They don't fly fish.
In 1966 I went back to night school and studied detail design drafting. I commenced work in the City Engineers Department at the Launceston Council where I continued for 30 years, with the final 10 years as Chief Draftsman, managing eight draftsmen.
Around 1970 I went on a number of fishing trips with my elder brother who was a grub fisher. We used to catch quite a lot, but as the grub is not very successful until dark, it meant spending cold nights by a smoky fire.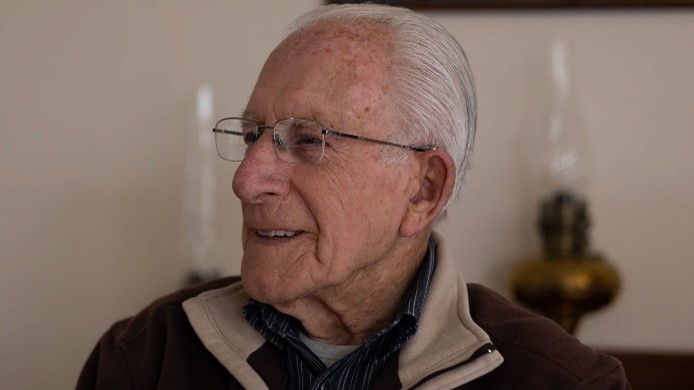 One late afternoon while waiting for the dark and time to set up with the grub, I took my spinning rod along to the next bay in Arthurs Lake and proceeded to spin. As evening approached fish started to rise, forever out in front and then, as I worked my way out, even in behind me and the shore. Though I flogged the water to froth with my small Celta they wouldn't even look at it. (I now realise that what I witnessed that evening was a good caddis rise). In disgust I returned to the camp fire and said to my brother, "when I get home, I'm buying a fly rod". This I did, and from that day to this I have never touched a worm or a spinner.
In 1973 armed with a new Jarvis Walker carbon fly rod and a Streamcraft net I spent the next 12 months teaching myself to cast and fish. I didn't know any fly fishermen – there weren't many around in those days. Then one morning I caught my first trout on a dry fly – an Iron Blue Dun. Well, I was then doubly hooked.
Also, in 1973 I attended a fly-fishing class run by Don Gilmore. He imparted to us a comprehensive insight into not only the way to find fish and the ways to catch them, but also the philosophy of dedicated fly fishers. Also, around this time I attended a fly tying class by Noel Jetson who taught the basics of fly tying. I have not bought a fly in 50 years.
At these classes I became friends with David Wayne, a former FFCT member (now deceased). Together we explored the highlands, both learning how and where to catch fish. We often would leave home at 3am Saturday morning and be on the shore ready to spot the first tailer at dawn.
Tumbledown at Arthurs was a favourite hunting ground where we had good catches by presenting either a black nymph or a black beetle about a metre ahead of a tailer; leaving it inert on the bottom and just waiting for the cast to move. We would often each have 5 or 6 fish of about 1kg by about 8 am when the fish usually left the shore for deeper water. At this point we would move on to other waters such as Little Pine, Western Lakes, Echo, Woods, or Lake Sorell.
One morning we left Tumbledown and on arriving at Little Pine at the boat ramp we decided to clean the fish. We had probably about 10 or 11 fish lying out on the grass when Don Gilmore arrived in his boat from the western shore with some of his fellow anglers. As he approached the shore, with his eyes sticking out like dog's assets he shouted, "where did you get all those?"
We did not lie, we just said, "we have only been here about an hour".
David Wayne had an International Scout 4WD. On opening day of August about 1974, we, inexperienced as we were, headed into Lake Kaye. After driving over ice much of the way we were unable to even wet a line – the lake was frozen over. Idiots!!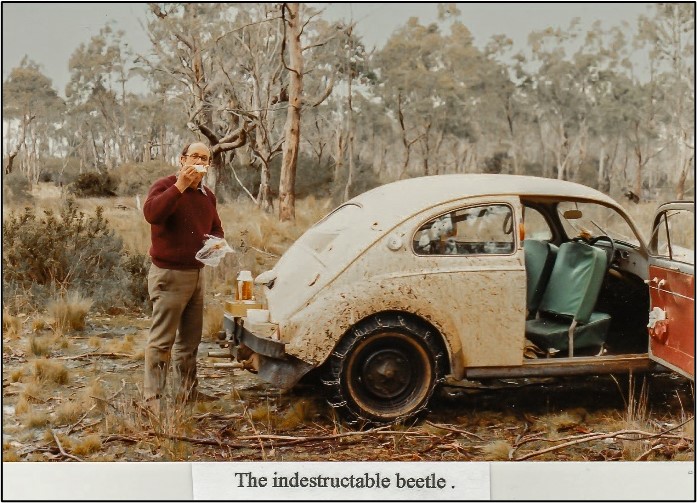 I bought an old 1956 VW beetle. I reconditioned the engine and fitted step down gearboxes from a very early model VW combi van on each of the back wheels. These lowered all gear ratios by 1.4 to 1. This resulted in greatly increased pulling power, while still being able to comfortably cruise at 50mph. I also fabricated step down stub axles for the front wheels. This setup gave the vehicle 12 inches of uninterrupted ground clearance. (Most large 4WD's have only 9 inches to the diff.) With large back tyres fitted with chains, this vehicle would, and did, go just about anywhere – in mud, swamp and snow. Many times this vehicle was seen in many parts of the highlands in places where no self-respecting VW beetle should be.
One morning while waddling up the side of Lake Sorell to Robinsons Marsh, we came upon an old army jeep bogged to the axles with all four wheels spinning in the mud. I had the temerity to pull up beside and ask if I could give him a tow. To which a very vehement reply came back, "no I will get the bastard out if it's the last thing I do". So without the need to even rev the motor, we waddled away and went fishing.
Robinsons Marsh, an area of many acres of weedy water about one metre deep, was a magic place. At tadpole time one could observe the grass above shallow water parting as a fish worked slowly through. The difficulty was to get your fly into a gap where it could be seen by that fish. Further out we had great success with my fly we called the "Red Arse". After dropping this fly into a hole in the weeds and just letting it sink, sometimes when attempting to lift off and try another hole, it would not come out. It was half way down the throat of a 2-3kg fish. I have many vivid memories of this fishing paradise.
In around 1974 I was accepted into The Fly Fishers Club of Tasmania (FFCT), and shortly after was elected onto the committee where I served for about 30 consecutive years including one year as President.
In later years I had many happy and productive fishing days with Jim Ferrier, Max Bertram, George Harding, Ross Francombe, Brian Carrol, and numerous others.
Jim Ferrier and I enjoyed fishing Penstock and were successful in getting two leasehold blocks on the eastern shore on which we each built a shack.
Eventually we and five others (including the FFCT) formed a group and were able to buy the 33ha block under a Tenants in Common Freehold Agreement. As a new name for this property was under consideration, Lynette and I suggested the name "Hollis Banks" which was unanimously accepted.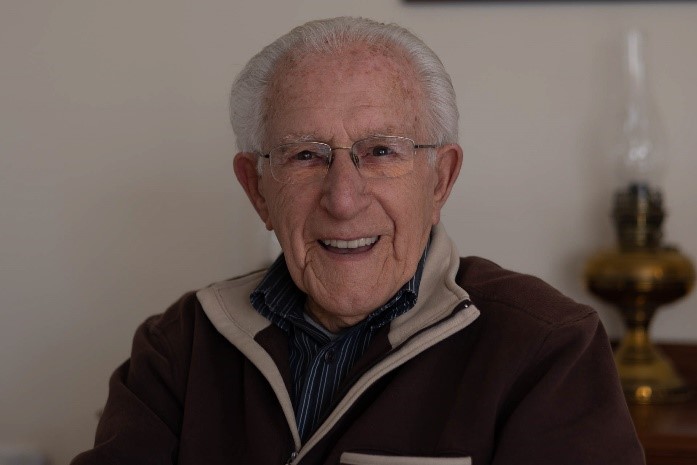 After 42 happy years at Penstock, I eventually sold my freehold there to another small syndicate of three people whom I am extremely pleased are the new owners. I am confident they will love, care for, and enjoy the place as we did.
I don't fish a lot nowadays as I'm approaching 90, although I still enjoy an occasional trip in the boat with my good friend Phil Lebski.
During my fishing life I have come to the belief that fly fishing is not about the weight of meat in the bag. It's about the hunt and then the fooling and hooking a trout. Sure, we all like to catch a few. But any day on the water has its rewards, regardless of the fish caught – the natural beauty of our surroundings, friendships, comradeship, experiences shared.
I have two of my own flies to share with you, both of which I have enjoyed success with over the years.
The Irish Floater
So named because it floats just under the meniscus. A friend of mine calls it 'The Turd Fly'. This fly is designed and tied by me. It is sometimes quite effective during the early part of a dun rise, while the trout are taking the rising and emerging nymph.
The idea is to whack it into the water. It will rise to sit under the meniscus thereby bending it up, just as the natural does. This is opposed to a conventional nymph which bends it down.
Using a piece of 6mm balsa dowel (available at Bunnings) cut a piece 12 mm long.
File a darning needle flat on two sides and push through centre of dowel.
Place in a drill and spin on high speed.
Using coarse sharp sand paper, sand to desired shape and size. Finish with fine sandpaper.
Stain to the desired shade of brown.
Place a 14-16 fine wire hook in vice, tie in tail whisks and fine gold braid. Tie off.
With a scalpel cut a fine groove along one side of body and fill groove with five minute Araldite. (Don't use Superglue as it goes white when wet.)
Push body down onto the hook and have a coffee until glue is set.
Take up gold braid and make 4 turns toward the eye of the hook.
At this point leave braid hanging weighted down by the hackle pliers and apply a coat of clear nail varnish to the whole body. Trim off braid after varnish has dried.
Notes:
Make sure body is sealed, including holes in centre where the needle was, as balsa will soak up water and then sink.
This fly has, at times been very successful, but I think, no more so than a good possum emerger.
The trick in tying this fly, made of balsa, is to use a lightweight hook. This enables the fly to achieve just a slight buoyancy while at the same time keeping the nymph body to a realistic size.
The Red Arse Fly
This is very simple to tie. It also has worked for me on Little Pine but was most effective at Lake Sorell.
Use a size 10 hook.
Dub on as much olive-green seal fur as possible, but don't exceed the width of the gape.
Add a short red tag at the bend of the hook for the tail.
Have fun.
Allan Miller
Written by: Alan Miller. Copyright 2022, all rights reserved.
Photography: Jack Barker, Muriel Rollins and Allan Miller.